Application management services
Re-take control of your application estate with our end-to-end application management services.
Using our 'on-demand' managed service, you can decide how much or how little support you need from us to alleviate the squeeze on your time and budget. Our step-by-step process takes away the headache.
Application discovery
We start by helping you discover, name and map the topology of every application across your entire enterprise. We'll find applications installed on physical servers, virtualised guest operating systems, automatically provisioned in private or hybrid clouds, or running in public clouds, and irrespective of whether the application was custom developed or purchased.
We don't actually know how many applications we have or who's using them?!
01
Find every application
Discover every Windows and Linux application in your environment, identify it by name, and measure the end-to-end and hop-by-hop response time and throughput.
02
Discover workload topology
Discover application flows, map topology and user response times to create the application topology. Update in near real time – all without further configuration.
03
Profile application workloads
Get a full view of who is using applications? Why, when and how do they use them? What are the expected service levels and actual service levels being delivered today?
We have too many versions of the same application. Supporting them all is costing us too much.
We need help to stop application sprawl and continuously rationalise what we're using.
We need to retire apps we're no longer using so we can stop paying maintenance on them.
Application rationalisation
Your users want application availability wherever they're working, be it on a desktop, laptop or mobile device. And while it's crucial to be able to transition to new technologies and platforms to meet their needs, providing flexibility presents a number of challenges.
It's typical for application estates to grow out of control over time. Knowing where to focus your effort for the best possible outcome is a huge challenge due to the large number of factors involved.
1,000s of moving parts (apps, users and systems), crucial data stored across disparate systems and knowing which apps are the priority can be a real deterrent to rationalising your application estate.
We help you monitor and reduce the number applications being managed whilst ensuring your users have the applications they need.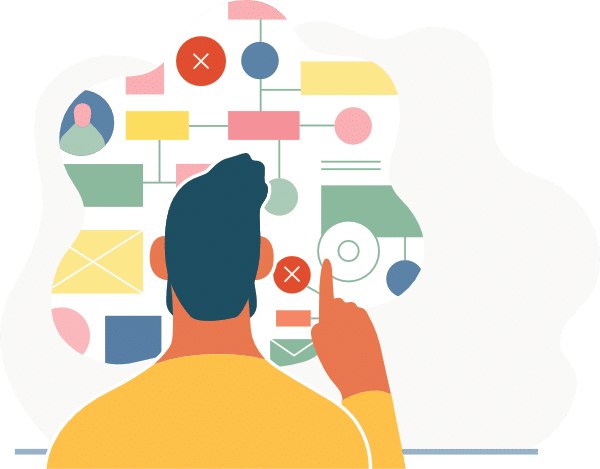 Prioritisation
It's typical for 100's or even 1000's of applications to be in-scope for a Windows 10 migration project, and this can take applications teams months to complete.
If you were to use a "waterfall" project management approach you'd need to wait until almost all of your applications were ready before beginning a pilot migration. This is necessary to ensure that all the users in the pilot migration have all the applications they require to do their jobs.
We use an "agile" project management approach and break your application estate into smaller tranches (or "sprints") and begin the migration much earlier than would otherwise be possible.
We look at which applications to focus on each week and which users can be migrated when that tranche of applications is complete. This means we can begin migrating your users a few weeks into the project, rather than having to wait months for all the applications to be ready.
We can typically enable 80% of your users to be migrated with just 20% of the applications complete. This can shorten a typical 5,000 seat migration project by about three months.
We need specialised skills for complex applications that are holding up our migration.
Packaging and testing
It's time to get your applications ready. Our cost-effective Pay-As-You-Go application packaging service gets applications to your end users quickly.
It doesn't matter whether you use Microsoft System Center Configuration Manager (SCCM), Microsoft App-V, Citrix XenApp or VMware ThinApp to deliver installation packages.
01
Specialists in packaging
With extensive experience across hundreds of projects, you get the right blend of skills for your project right from the word go.
02
Integration testing
Application are loaded into your chosen deployment toolset and tested against you requirements in your chosen environment. This minimises UAT failures.
03
User Acceptance Testing
Once we've thoroughly tested the applications we release them to you for comprehensive testing and acceptance.
Monitor readiness
At this stage, you want to stay in control and avoid any slip-ups.
So, as your applications are being prepared for the new environment, we give you real-time updates on work-streams and can show you how they impact the "readiness to migrate" across your organisation.
What's the bottleneck holding up the migration of the Asian offices?
Who is ready to be migrated in the New York office?
Which applications are outstanding for the Marketing department in Paris?
01
"What-if" analysis
We can help you to model different migration strategies to understand the best possible approach for your environment.
02
Ready. Steady. Go!
We use a centralised repository for application lifecycle management so the migration team get real-time readiness updates as applications are completed.
We need assistance getting the packaged application out to users and what's the best platform to use?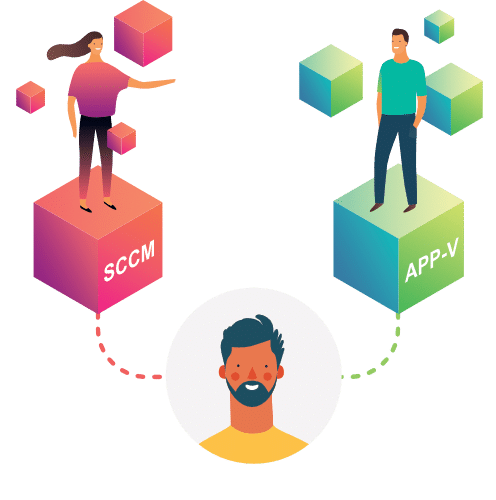 Application deployment
If you need us to we can load packaged applications into your chosen deployment toolset, configure options, create groups and deploying the applications to your end-users or devices.
In most cases, deployment is usually a joint collaboration between us. We have extensive experience of applications, operating systems and application deployment and you understand your businesses priorities and deployment scheduling.
Just a few of the areas we can help you with:
Guidance on deployment standards and process
Delivery and hosting of a deployment workflow management system
Deployments using SCCM, App-V Management Server, Landesk, Altiris etc.
Deployments to a single user / deployment group
Migration from an existing deployment toolset on a per-application basis
Consultancy
We have extensive experience in areas of application packaging, virtualisation and deployment, and offer expert advice on the following:
Documentation
Product recommendation
Feasibility studies
Best practice reviews
Build and test system integration
Process design
Application remediation
System implementation
Desktop build
Application deployment
Deployment scheduling
Ask us a question
Find out more about what we do, tell us about your project, your issues, or any existing technology partners we need to work with.
We're ready to help you complete your project successfully!