Application packaging services
Eliminate the headache of maintaining and migrating desktop environments with 'on-demand' application packaging services.
Constant changes to underlying operating systems, packages, and deployment methods mean no application estate remains unchanged for long. Staying on top of developments can be slow and costly.
We're running behind on application packaging projects. We just can't keep up!
We need specialised skills for complex applications that are holding up our migration.
We're struggling to find a long-term, reliable application packaging partner.
My clients need packaging but its not something we offer. We need external assistance.
We have a sharp rise in demand for application packaging. We need short-term help.
Get on-demand application packaging
Our cost-effective Pay-As-You-Go application packaging services get applications to your end users quickly, irrespective of whether you use Microsoft System Center Configuration Manager (SCCM), Microsoft App-V, Citrix XenApp or VMware ThinApp to deliver installation packages.
Manage demand effectively
Stay on top of workloads from discovery to deployment, with our 24/7 service. Get as much assistance as you need.
Reduce project complexity
Overcome delays and complete projects on time with standardised, repeatable packaging processes and clear, consistent documentation.
With fixed charge, 'per-app' pricing for packaging you can forecast costs more accurately and avoid unforeseen over-runs.
Applications are packaged using industry best practice. This means fewer issues for end users and fewer headaches for your support team.
Get the right skills first time
With extensive experience across hundreds of projects, you get the right blend of skills for your project right from the word go.
Reduce the time you and your team spend on application management to focus on new, high impact projects and technologies.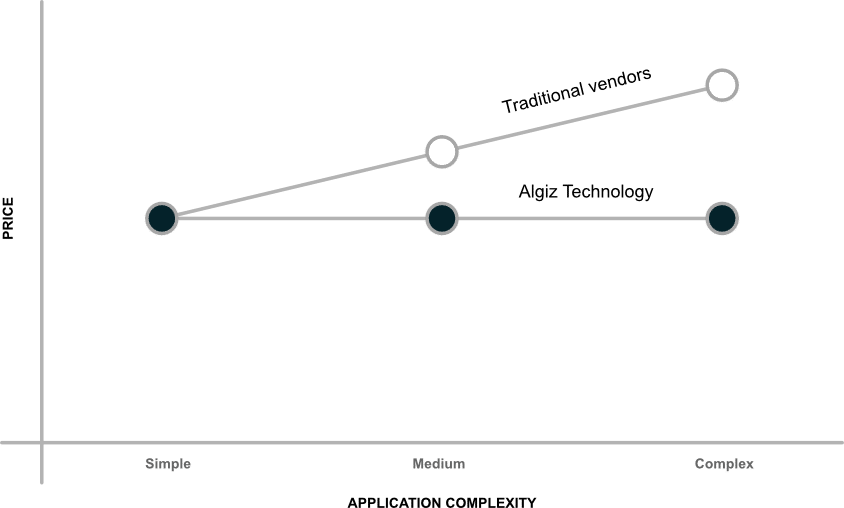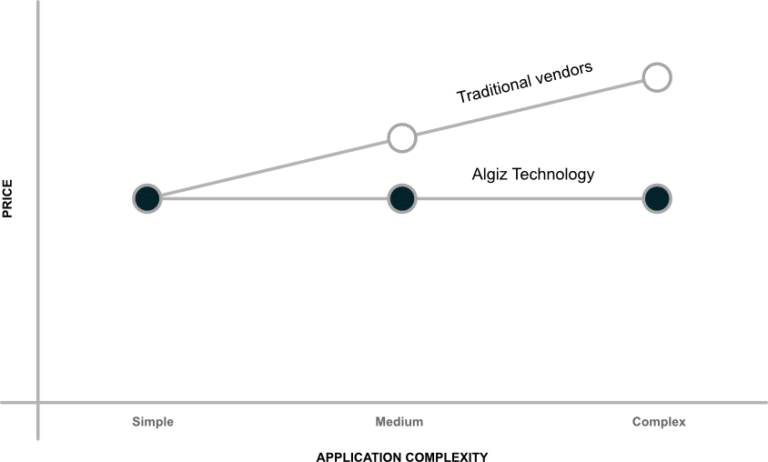 The pioneers of fixed price packaging
At Algiz, application complexity doesn't change the price you pay per app. It only determines the SLA for delivery.
Every project and client is unique, and so our application packaging services are tailored to you and your needs.  You're always in control and you can use as many or as few of our services as you need to get the job done.
Discovery & Media Validation
During this phase we identify the applications that exist in your estate as well as who uses them and how.  Once all the media has been identified, it is categorised and prepared for packaging.
We can provide guidelines if discovery is something you wish to do in-house.
Applications are packaged by our team in the UK where there is also an option to have dedicated resources on-site.
Packaging for international clients is performed remotely.
Every package you receive is accompanied by documentation which provides details of the package construction and a completed quality assurance checklist.
Packages may also include additional documentation that we feel would help you with deployment in a live environment.
Once we have tested the applications on your chosen platform we release them for comprehensive testing by clients.
By agreeing and adhering to packaging standards we ensure a very high standard of packaging and acceptance.
Big or small, local, national or multinational, we'll help you complete your project successfully.
Windows 10
Migrate 5,500 users to Windows 10. Deploy using SCCM.
Centralised Application Delivery
Deliver virtualised applications to 4,000 users using Citrix.
Device Migration
Migrate 90,000 devices to Windows 10. Using App-V, MSI and SCCM.
User Migration
Migrate 6,000 users to Windows 10 using Intune to deliver applications.
Our team of packaging experts has delivered 1,000s of high quality applications for customers ranging from SME's to multinationals and across all industry sectors.  For UK clients we can provide both 'off-site' and 'on-site' services. For international customers we provide 'off-site' application packaging services.
We can take any type of working application in any file type, whether it be vendor, in house or not even in installer form and turn it into a Microsoft Installer or virtualized application.
Packages are provided in an easily distributable form to use with your deployment tool of choice and offer completely silent installation with no user intervention.
As much information as possible always helps, but to make it easier we have created a simple application discovery template which you can use to speed up the discovery phase.
Algiz will be happy to assist with discovery as part of the service if desired.
No. We work best in conjunction with your in-house team. It makes our lives easier because they know your network and are best placed to perform UAT. If you don't have in-house packagers then we can still do the discovery and testing tasks, as well as the packaging, for you.
Not at all. All packages have one simple, 'per-app' cost. This helps reduce the risk of budget over-runs once your discovery phase is complete because complexity is no longer a limiting factor.
We adhere to industry best practices when packaging applications.
Self repair and removal – application features built into our created installers provide automatic issue resolution in the event of user changes. The MSI is aware that files have been changed and will attempt to automatically fix itself.
Clean un-install – built-in features let you cleanly remove our applications when the product reaches end of life. This eliminates the chances of files or folders causing issues on the machine once an application is no longer required.