App virtualisation
Get next-generation application virtualisation and delivery for your apps with Numecent Cloudpaging™.
The problem
Whilst App-V is unbeatable for most enterprise virtualisation, there are certain types of applications that Microsoft recommend should not be virtualised using the technology. These include applications that start services at boot time, require device drivers, are part of the OS, use COM+, etc.
We want to decouple the OS and application layers. We need a simple way to do it.
We're trying to virtualise all of our apps, but even half is proving to be a challenge.
We're looking for an alternative to App-V now rather than when support expires.
We're having trouble virtualising complex applications and apps with drivers.
My users need to run legacy and modern Office applications simultaneously.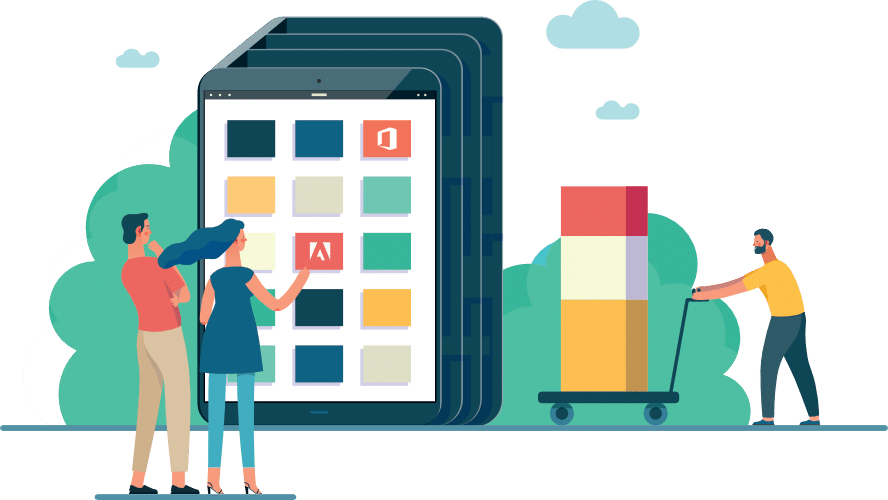 Virtualise 99.9% of your apps!
These limitations mean that you can't fully realise the benefits of application virtualisation. Using Cloudpaging™ technology, Algiz Technology will virtualise applications that can't be virtualised using MS App-V so that you can enjoy a fully virtualised application estate.
Virtualise with Cloudpaging
Cloudpaging transforms native software delivery, deployment, and provisioning to and from the cloud, datacenter, and desktop. It lets you package and deliver any Windows application to any Windows desktop – VDI, Physical, or BYOD.
01
Virtualise any Windows app
With Cloudpaging you can virtualise ANY Windows app, including the 'tricky' apps that legacy technologies like App-V and ThinApp can't handle.
02
Run apps at native speeds
Virtualised apps behave as if locally installed, with no compromise on performance. That includes 3D graphics, HD content and CPU-intensive apps.
03
Reduce VDI costs
Application virtualisation separates apps from the OS and uses the power of the end device, so the infrastructure is a fraction of the cost of VDI!
04
Run virtualised apps offline
Even if your users lose connection to the server, your apps will still be available without the loss of licence control!
05
Dynamic updates
Application updates happen in near real-time with no need for maintenance windows. Rollbacks are instantaneous.
06
Security built in
Applications are encrypted, compressed, and delivered over a secure connection preventing theft, malware injection, and other security threats.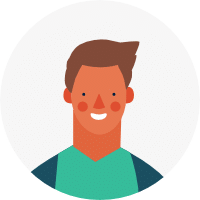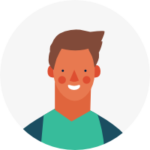 We'll virtualise your 5 most complex apps with Cloudpaging for FREE!
Cloudpaging in three steps
The Cloudpaging system contains three components that deliver a native desktop application experience to end users without a traditional installation. The three components that work together are the Cloudpaging Studio, Server, and Player.
01
Create/Publish
Cloudpaging™ Studio prepares the application for automated deployment, updates, and access settings based upon the predetermined permission levels within your organization. With Cloudpaging™ Studio you can package an app for the lowest common denominator of Windows OS, and you won't need to repackage that same app when you move operating systems.
02
Deliver
The Cloudpaging™ Server can be in the Cloud of your choice, or your company's own on-premises server. Once your apps are on the Cloudpaging™ Server, your IT department can use virtually any provisioning tool, including Microsoft® SCCM, for managing application deployments and updates to your workforce on their virtual or physical devices.
03
Execute
The Cloudpaging™ Player "plays" the provisioned applications on the end users' virtual or physical devices. The Player can be configured to be visible or hidden to the end user and accessed with single-sign-on (SSO) if desired. You can keep an eye on usage and empower your employees with self-service options.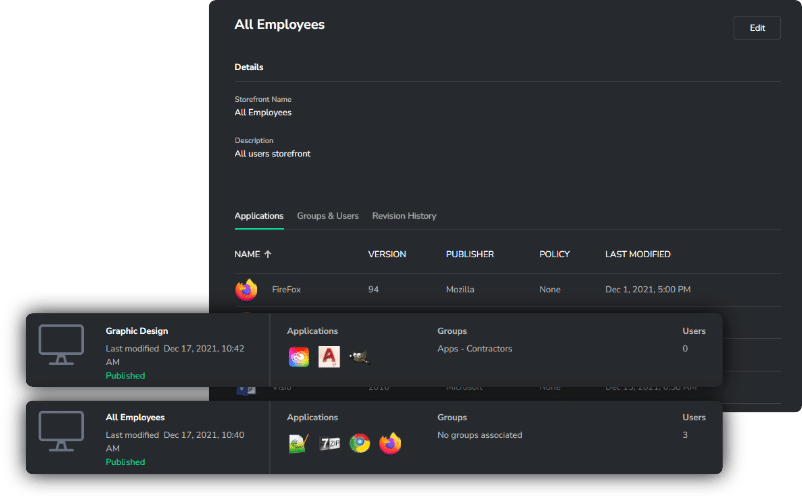 Use cases
Deploying Complex Applications
Simplifying OS Migration
Supporting BYOD Users
Legacy application deployment
App-V's End of Life
Achieving a single golden image
Run applications in multi-session
Seamless application updates
End user compatibility
Windows Applications (32-bit and 64-bit)
Windows 7, 8, 8.1, 10,and 10 Anniversary for user desktop OS's
Physical User devices such as Notebooks, Desktops and Thin Clients
VDI and Remote Session technology
VDI / remote compatibility
VMware Horizon View
Citrix XenApp, and XenDesktop
Microsoft 2012, 2016 Server with RDS
A few of our projects
Big or small, local, national or multinational, we'll help you complete your virtualisation and migration project successfully.
Banking and finance
The nature of complex apps and infrastructures used within Financial institutions makes them difficult to package and deliver to end-users. We helped one of the largest tier-one banks to package their most complex apps with Cloudpaging™ and deliver them to 70,000 users using their existing delivery tools.
Centralised application delivery
Delivered virtualised applications to 4,000 users using Citrix.
User migration
Migrated 6,000 users to Windows 10 using Intune to deliver applications.
Happy customers
Real enterprises with real problems solved.









Find out more about Cloudpaging and our projects