This article summarises the issues related to application compatibility in Windows 10 as discussed by Chris Jackson, Microsoft's Worldwide Lead for Application Compatibility, in his extensive article 'Windows 10 App Compat Strategy.'
Upgrading to Windows 10.
With the arrival of Windows 10 bringing a number of new features to user organizations, it has undoubtedly accelerated the uptake of enterprise deployments.
Let's face it; everyone will have to go there eventually.
Additionally, with Microsoft changing the way Windows is delivered – new features become available as soon as they are completed, rather than waiting for contiguous upgrades, so there are many benefits for the uptake.
Deploying Windows as a Service, however, requires different processes. Fortunately, many are well documented by Microsoft, but there are still inherent risks involved. The main ones revolve around:
Application Compatibility – how should legacy apps be delivered, and the device types expected to run the apps – the 32bit / 64bit question.
The "Application Sprawl" – over the years, organisations inherit many applications – in some cases running into the thousands. How many are genuinely required today?
Supporting the applications, and, potentially many versions of the same app
Transition – can Business as Usual (BaU) be maintained, so as not to adversely impact the enterprise.
When it comes to determining the applications required for BaU, many organizations follow the Microsoft approach of Collect / Analyse & Rationalise / Test and Remediate, however with traditional methods, this can require significant effort in terms of discovery, prioritisation, delivery determination and testing across the environment.
Managing the risks of upgrading.
Overall, any migration is predicated around managing risk. Traditionally, organizations have previously managed low-risk transitions well, with regular patching and update procedures implemented and working. However, with a high-risk transition, a different approach is required. There are different challenges depending on start-point (XP / Windows 7 / Windows 8) and the Windows 10 destination.
For many users, the last major migration was from XP to Windows 7, and many discovered that their apps required some form of remediation. One point to note is that one of the difficulties encountered was not because of unknown app compatibility impact, but because of known app incompatibilities.
Consequently, one of the key areas of risk mitigation is looking at application compatibility and defining and assessing application risk. Many organizations identify the majority of their apps as business critical. Potentially, this could be the result of a lack of process to determine the criteria for criticality, or a general fear that BaU would be adversely affected by reducing the perceived necessity for the apps concerned.
Clearly, not all apps identified as critical will necessarily be so, and therefore a more pragmatic approach is required.
An application checklist.
In light of the points raised, organizations migrating to Windows 10 need to determine a number of things:
What processes do we need to deliver Apps to our Windows 10 estate
How do we determine the number of Apps we currently have
How many of those Apps do we really need
How are we going to deliver those apps to the users
How do we ensure a BaU environment is maintained
How do we track and monitor the project
Addressing each point individually:
Processes are generally organisation-defined, although there are many helpful articles available from Microsoft, and other sources.
Determining the number of Apps in the estate can be a time-consuming and frustrating experience. There are a number of considerations, but primarily they can be grouped as:
Applications
Devices
Users
Although it is possible to undertake this identification manually, as previously stated, application sprawl and criticality can skew the results, and make manipulation of the resulting spreadsheet(s) difficult, if not impossible.
Application compatibility tools.
Fortunately, there are tools out there – available as SaaS for as long as they're required – and one we've had good experiences with is MigrationStudio. MigrationStudio imports data from multiple sources such as Active Directory and Microsoft Config Manager (SCCM). This produces an "as is" model of the environment with full context around users, their location and department, the machines they use, the applications they use, and the status of those application.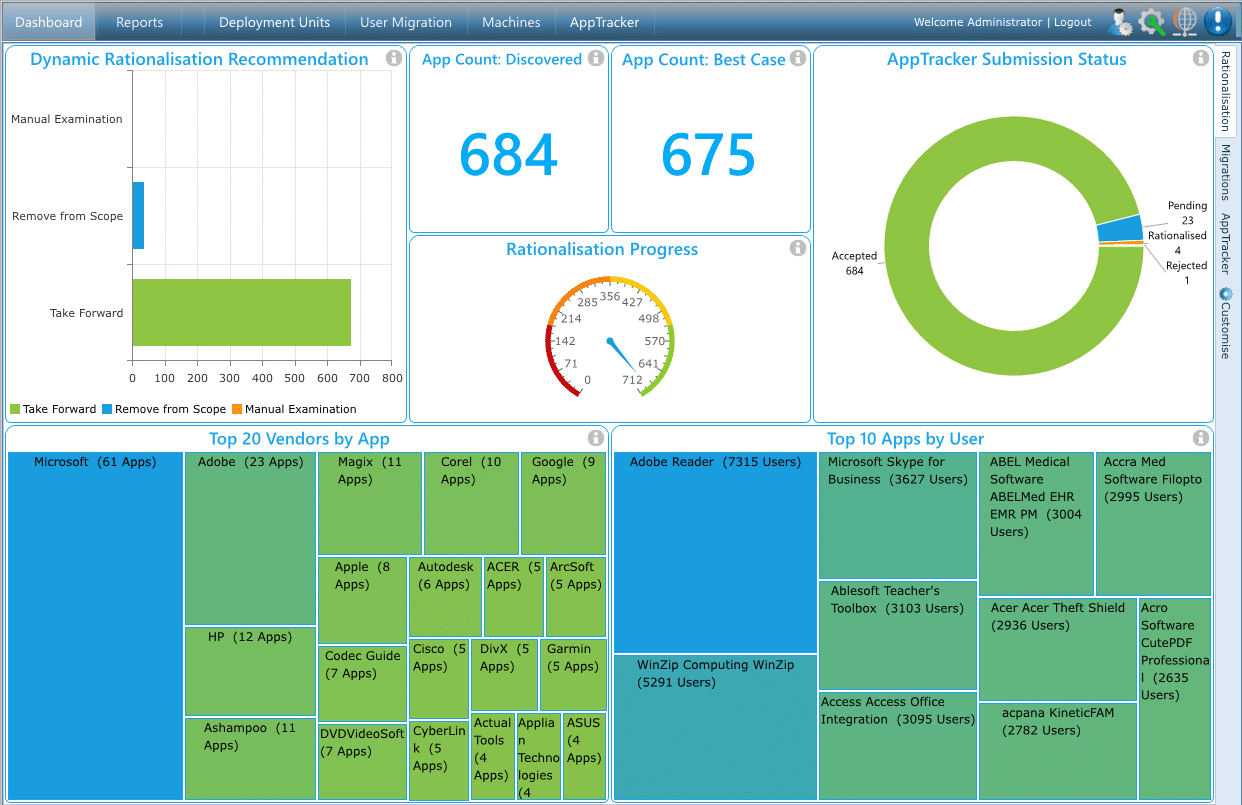 This allows project teams to both rationalise and prioritise applications needed for the enterprise.
Delivering Apps to the users – enterprises have already made their investment in Windows 10, so using the Microsoft mechanisms already paid for makes both technical and business sense. App-V is probably the best delivery method – where the App is capable – and MSI where it isn't.
Either way, the chances are that the app will need packaging, and, providing the appropriate source media and product keys are available, this can be accommodated, either in-house, or more usually with some outside assistance.
NOTE: Learn more about our Application Packaging Services.
Ensuring BaU – much of this can be addressed by the scale and depth of testing the delivered App. This is NOT just the technical test but User Acceptance Testing:
does it load in the environment?
does it run in the environment?
does it appear (near enough) to what the end-user has previously experienced?
does it perform exactly as it did before?
For this, there needs to be one or more "application champions" who know the App and can conduct in-depth, rigorous functionality testing. Many organisations state that finding UA testers (and then pinning them down to conduct the tests) is one of the harder obstacles that they come across.
Tracking and monitoring the project – especially if there are many Apps and many users – is another area that can be time-consuming and frustrating and potentially a bottleneck if manual methods are employed. Again, MigrationStudio can assist, with many features to ensure timely and efficient roll-outs to users and groups across the enterprise.
For a more in-depth review of the issues and opportunities offered by Windows 10 migration, I can highly recommend Chris Jackson's article 'Windows 10 App Compat Strategy' where you'll find many useful strategy and real-world observations.