Cybersecurity enablement
From local stores to global multinationals, if you're open for business, you're open to attack.
Organisations across the globe face an unprecedented number of cyber threats. Everyone has similar questions – where do we start? Where are we most vulnerable? What gives us the most protection, the fastest?
Our cybersecurity specialists answer those questions by conducting thorough assessments to identify vulnerabilities and help you understand your risk profile. We then work closely with you to develop a customised cybersecurity strategy that aligns with your specific requirements and to mitigate the risks.
With more of our services in the cloud, we don't just want to rely on vendors. What else can we do to protect our data?
It's hard to find and retain skilled cybersecurity professionals. We need help to fill in the gaps and stay on top of security.
We need to protect against negligent or malicious actions by employees. We need ehlp identifying and mitigating risks.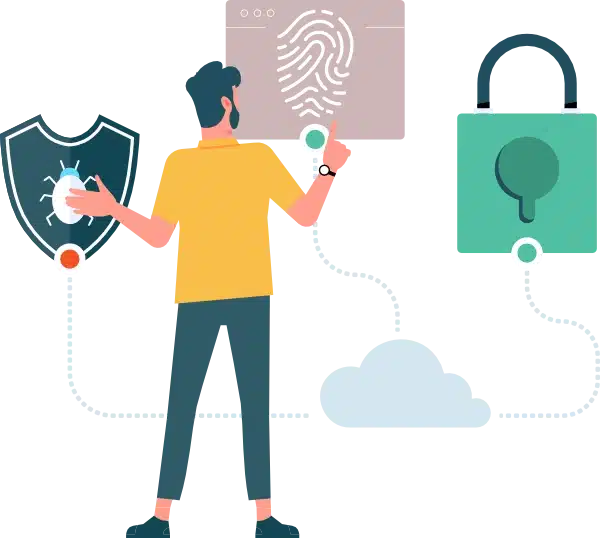 Security and performance
Algiz Technology's cybersecurity enablement and management service addresses security challenges head-on. By partnering with us, you can avert the risk of data breaches, ransomware attacks, and other cyber threats.
Our proactive approach helps identify vulnerabilities and implement effective security measures, reducing the likelihood of successful attacks. We provide continuous monitoring and threat detection, enabling businesses to respond swiftly to emerging threats and minimise the impact of a potential breach.
Get peace of mind knowing that your critical data and systems are protected by industry-leading cybersecurity measures.
Preparation
Define the assessment's scope, objectives, timeline, and budget. Gather initial information about existing policies, procedures, and controls. Identify key personnel for interviews.
Assessment
Conduct vulnerability assessments and penetration testing to identify weaknesses. Evaluate network architecture, data classification, and compliance. Assess security awareness and training effectiveness.
Reporting
Compile findings, vulnerabilities, and weaknesses into a comprehensive report. Provide prioritised recommendations for risk mitigation. Present findings to the organisation's leadership and stakeholders.
Remediation
Develop and implement a remediation plan to address identified vulnerabilities. Assist in improving cybersecurity policies, procedures, and controls. Enhance incident response capabilities.
Monitoring
Establish ongoing monitoring processes to detect and respond to threats. Provide guidance for long-term cybersecurity improvement. Support the organisation in maintaining a proactive security posture.
CASE STUDY
Cybersecurity enablement in the retail sector
01
The problem
This prominent retailer wanted to protect its sensitive customer data and secure its digital infrastructure.
Faced increasing cyber threats, including data breaches and ransomware attacks, which posed a significant risk to customer data and brand reputation.
Needed to comply with industry regulations and standards, such as PCI-DSS, to ensure secure payment processing.
Limited visibility into its digital infrastructure's vulnerabilities, making it difficult to proactively address potential security gaps.
02
What we did
Conducted a comprehensive threat assessment to identify vulnerabilities, potential attack vectors, and areas of improvement.
Implemented robust security measures, including network segmentation, firewalls, intrusion detection systems, and encryption, to fortify the client's digital infrastructure.
Helped the client meet industry-specific compliance requirements, such as PCI-DSS, by implementing necessary security controls and conducting regular audits.
Established a dedicated SOC to continuously monitor the client's systems, detect and respond to security incidents, and provide timely threat intelligence.
03
The outcome
Security measures implemented significantly reduced the client's vulnerability to cyber threats, safeguarding customer data and brand reputation.

Happy customers
Real enterprises with real problems solved.









Let's get started
Find out more about what we do, or tell us about your cyber security concerns and requirements.
We're ready to help you protect your data, network and users.