Microsoft's Windows Virtual Desktop (WVD) is now Generally Available! This is a pretty momentous day as it has been a long journey to get here. While now well known as WVD, just a couple of years ago the discussion was around RDmi (Remote Desktop Modern Infrastructure) which in it's early conception as announced at Ignite seemed to be a new modern take on Remote Desktop Services. The idea being to move some of the management infrastructure components into Azure allowing for greater elasticity and removing some of the maintenance burden from in-house IT teams.
What's the point of RDmi?
It was never entirely clear what the full objective was for RDmi or how much industry disruption it might cause. My first impression at the time was that RDmi could be an optional building block that vendors like Citrix and VMware could use for products like Horizon and Virtual Apps and Desktops going forward.
Larger enterprise customers who already have a load running in Azure could choose to simply add these RDmi components and use them for things like a Gateway, Load Balancing, and Brokers while potentially continuing to use Citrix or VMware's provisioning tools, application delivery tools, presentation layers etc. for delivery of the apps and desktops.
Those were my first thoughts on it at the time.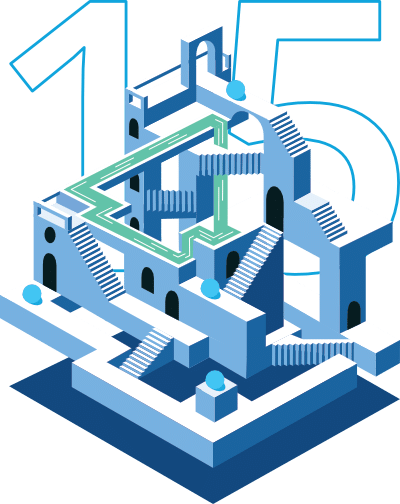 Pain-free application deployment and upgrades in Configuration Manager and Intune
GET THIS EBOOK
Multi-user Windows 10
In late 2018, news of a multi-user Windows 10 got out. There was some confusion initially as people started to believe that Windows Virtual Desktop and multi-user Windows 10 were one and the same. When you started a conversation about WVD, people assumed you were talking about a multi-user Windows 10 offering, but this is not the case.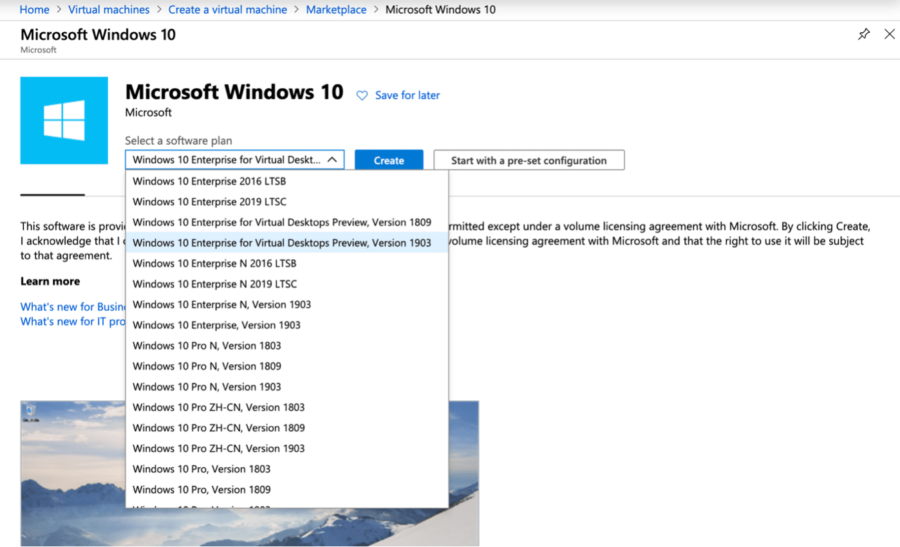 A multi-user Windows 10 is available in Azure and is called Windows 10 Enterprise Virtual Desktop (EVD). You can use it in conjunction with WVD or you can create new Windows 10 EVD virtual machines directly in Azure without WVD, as seen in the above screenshot.
This is an important distinction. Anyone can run multi-user Windows 10 – but only in Azure. This does present the opportunity to vendors like Citrix, VMware, Workspot, or Parallels to offer an Azure-based solution that includes multi-user Windows 10. I would guess this could be particularly attractive to Workspot as today they leverage RDP in their current offering, so this could make perfect sense for them.
With that brief history lesson out of the way…
What is Windows Virtual Desktop today now that it has launched?
It IS a modern Microsoft Remote Desktop Azure-based infrastructure service that you can use for publishing multi-user Windows 10 desktops, single-user personal virtual desktops and even publish applications. It can be a building block or even a foundation for vendors like Citrix or VMware to use for their popular EUC products if they so choose. However, what has surprised me and what is different from my initial impression of RDmi in today's Windows Virtual Desktop is that in my view it is being positioned to be more disruptive than I had thought. It's not just swapping out the current "legacy" Terminal Services\Remote Desktop Services components that these products already sit on while on-premises today.
Microsoft seems to be positioning itself to take a bigger slice of the pie.
Citrix, VMware, and others in this space have always provided superior tooling than native RDS for managing virtual desktops and publishing applications. Microsoft seemed to be pretty happy just to take it's cut of the action through RDS CAL licenses. It positioned the native RDS tools and solution as a better fit for smaller organizations who maybe don't have the demand or budget to justify paying for Citrix and VMware licensing and support too.
With WVD running in Azure, scale from a physical and supportability standpoint will obviously no longer be a limit (other than financially for customers 🙂 ).
Back in the days of RDS on Server 2008 R2, the RDP protocol was far inferior to ICA. Now there is very little to separate the protocols. In more recent years, VMware had Persona Profiles, Citrix had Citrix Profile Management while Microsoft had User Profile Disks and User Experience Virtualization. It's just my opinion, but UPD and UE-V lagged behind the competition, but now Microsoft has acquired FSLogix, it is supported in WVD.
In previous Windows Server releases the management experience for RDS was pretty lacking through the native UI based tools. I think the flow for creating images and updating them in WVD could probably be a lot better, but in an odd way, working through the Azure portal and using snaps in the Azure Virtual Machines is a better workflow than in the past too. HOWEVER, I feel this is still a part that other vendors do better today.
Industry Disruption
As AWS started to focus a little more on EUC with awesome products like Workspaces and AppStream, Microsoft needed to react. Initially, that seemed to be in the form of backing Citrix. They announced RemoteApp was going to be sun-setted and recommended XenApp Essentials running in Azure.
To their credit, Citrix has been progressing with Citrix Cloud and Citrix Workspace but I feel (and this is just a feeling with no insider knowledge) that maybe Microsoft felt AWS was growing its share of EUC faster than Citrix and they themselves could contend with at that time, and needed to look at their lot and figure out a more effective counter-punch.
Enter Windows Virtual Desktop.
What does that pivot to WVD mean for Citrix? You'll see Microsoft and Citrix still doing joint webinars and discussions together and talking about WVD and Citrix better-together types of stories. In fact, both Citrix and VMware already announced support for Windows Virtual Desktop months ago but the entirety of that support is still a little unclear. In demos, you'll see it looks like they will allow you to publish icons for Windows Virtual Desktops in their presentation layers, i.e., Citrix Workspace and VMware Horizon.
With WVD essentially including the management infrastructure as well as the means for deploying and managing the desktops and applications, it potentially cuts Citrix and others out of the picture entirely.

While that could be the case, at this moment, I'm not too convinced. I feel that even though some people criticize Citrix Cloud for the awful cloud-hosted Citrix Studio (and it is pretty awful), the management experience is still better even if the rest is flakey sometimes. VMware has also maintained a pretty rich administration experience in VMware Cloud on AWS, lining up well with the on-premises experience. Whereas the administration experience in WVD is lacking right now, and this could be an opportunity for others. For example, CloudJumper has an incredible product that makes WVD setup and management much better than when just using the WVD gallery item.
Plenty of organizations will overlook a weaker admin experience if the user experience is acceptable, and the price is right.
What makes up the user experience?
The desktop OS is, without a doubt, important. You've got Windows 10 both multi-user and regular 1:1 Windows 10. That's a good start.
For productivity, you've got Office 365. That's great.
For ensuring a seamless experience and persisting user data and application settings, you've got OneDrive and FSLogix Profile Containers. Very cool!
For the apps…ughhh…well, you've got RemoteApp, which is less than impressive. You've got FSLogix App Masking to help if you end up putting a lot of locally installed apps into your images which may be easier, but might not be the best or most cost-effective approach. Coming soon is AppAttach which may be an Application Layering type of product using a spinoff of FSLogix Container for deploying MSIX applications.
With MSIX in its infancy and AppAttach not available yet, it's likely this won't be available for quite some time. Microsoft wants MSIX to takeover from App-V, BUT App-V has just had its extended support stretched to April 2026. You could use App-V Scheduler and App-V which works very well in my tenant and while I can recommend that, it's undoubtedly not part of the elevator pitch by Microsoft. So for the apps, for app publishing and deploying to desktops, it's lacking.
For actual performance and reliability of the desktop, I had very mixed results. Sometimes it was acceptable, but at other times the desktop experience was pretty slow, and I had my connection drop on multiple occasions. Improving the stability of the desktops is going to be of utmost importance to sell WVD to customers!
As for the cost, it isn't cheap, but that's the Cloud baby, and you have to factor in certain things that many overlook when they get that sticker shock. It's not just a few desktops and a web portal. It's a data center hosting your desktops, users and applications with servers and services for presentation through the web portal\gateway, load balancing and intelligent routing, brokers, and more. Not to mention licensing for some best in class products thrown in to sweeten the pot for all of us, as well as extended Windows 7 patches. It's also about having the ability to grow and scale-up instantly, for even more money, of course, but then it's like convenience store prices 🙂 . You pay for the convenience of having those resources right there when you need them.
There's one other important note on cost. The Windows 10 multi-user is very cool, and I'd love for an on-premises version (please!!!), but you'll notice running the multi-user Windows 10 is particularly costly. This is partly due to changes to the old Terminal Services we all know and love. Rather than running in Kernel Mode, this now runs per user that logs in running in user mode.
While this is pretty cool from a machine integrity standpoint as one bad session should be less likely to bring down the box and all other users with it, it does result in greater resource overhead, which is pretty noticeable in memory consumption. This means a lower user density than with Shared Desktops running on older versions of Server OS.
My Conclusions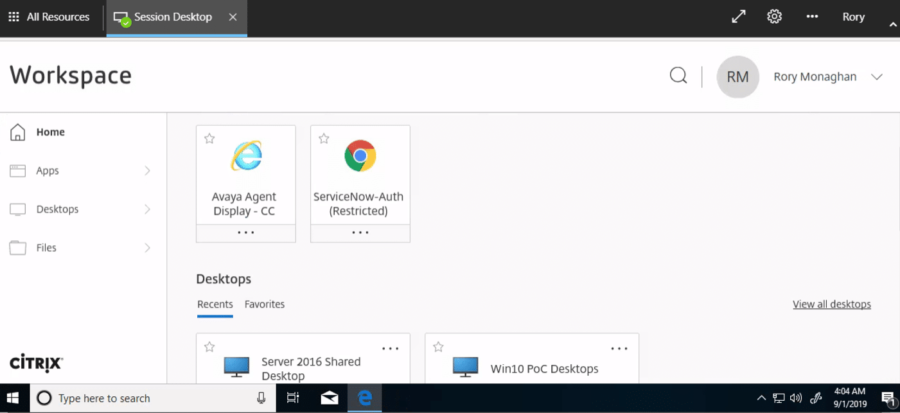 Due to what I feel is the poorer experience with published applications and application delivery in general on the desktops, I still leaned on Citrix for much of my application delivery with a handful of applications being deployed directly to the desktops via App-V Scheduler.
The performance was pretty disappointing, BUT as the product has just launched and I experienced it in a Preview stage, so I'm hopeful the performance is better now that it's GA.
With a recent hardware refresh cycle concluded, the cost is undoubtedly a factor for me to consider. Running WVD with just 3 Virtual Machines (one of which was a multi-user Win10 VM) my estimated cost for the month was about $323.
For now, I feel the tooling, or lack of tooling, from an Admin perspective is a drawback too, but this is where CloudJumper and possibly others can help fill the void.
If you'd like help on your journey into the cloud, we are happy to help.