Does the following conversation with IT sound familiar?
"I've got an iPad, so can I have our CRM application put on it please?"
"Erm, it's not designed for tablets, or your smartphone, it just works on your laptop."
"Obviously I understand that, but can't you just copy it over? It can't be 'that' hard."
Application management has always been a challenge for IT, but with demand for mobile access to company data and tools on the rise, that problem just keeps getting worse.
Many businesses invest a lot of time and effort into building applications tailored to their way of working, so it can be very difficult (and expensive) to re-engineer long-standing legacy applications for mobile platforms. And while users want all the home comforts of their tried and tested apps on a smartphone or tablet, these applications are built around PCs with very specific OS, drivers and libraries, etc.  PC's will continue to be used for a number of years to come, but deploying and managing hundreds or even thousands of applications across more and more devices is becoming unsustainable.
How do you get these applications to users who expect to work anywhere on any device?
Application virtualization and streaming provide a bridge for those old applications to the new mobile world, easing some of the challenges you're facing (or going to face if you're not there yet). It also gives you time to consider the future of your application estate without rushing into expensive development projects.
What you can do depends on your client device and the operating systems it runs, but we've highlighted a simple route for the more popular devices below. Before that though it makes sense to explain a bit more about application virtualization.
What is application virtualization?
We think Ruben Spruijt, an expert in the field of virtualization describes it most succinctly:
'Application virtualization is an essential and critical component for all desktop delivery solutions. The term 'Application Streaming and Virtualization' is often used by customers and IT-Pro's, although it's rarely fully understood. To understand the true meaning it's best to break down into constituent parts:
Application: These are the end-user focused Windows and web programs, executed on a Windows Operating System Platform
Virtualization: is a software layer that improves portability, manageability, and compatibility of applications by encapsulating them from the underlying operating system on which they are executed. A virtualized application is not "installed" in the traditional sense, although it's still executed and behaves as if it were. Virtualization isn't emulation
Streaming: is the process of transporting the application-specific data/content as quickly as possible to the end-point. The application is quick-up-and-running where ultimately the required resources to run and use the application is being delivered to the user while the remaining data is transferred in the background.'
Routes to virtualization for mobile devices
There are a number of tools available for virtualization but one of the more popular ones is App-V from Microsoft and that's what we've used in our routes to mobile devices below.
App-V is developed with Windows PCs in mind, but can also deliver Windows desktop applications to Virtual Desktop Infrastructure (VDI) environments. There are no alternate platforms officially supported by Microsoft, but using a third-party VDI platform like Citrix, organizations may be able to deliver legacy Windows applications to mobile devices running iOS and Android, as well as to Mac OS X or Linux.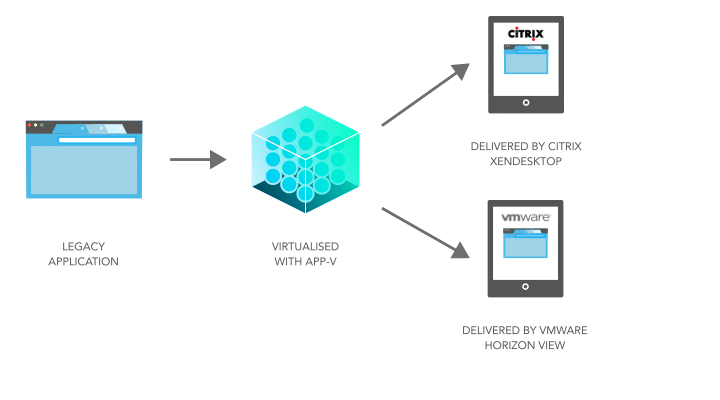 With application virtualization in place, your next conversation with an end-user wanting that legacy app should be…
"I've got an iPad, so can I have our healthcare application put on it please?"
"Yes."
You won't even have to worry about why they're putting company applications on a personal device because the application and its data is safely locked away in your data centre.
Did you find this article useful? Feel free to share it.