Following on from our recent announcement that William Jansen is taking Algiz Technology stateside, we're delighted to tell you that Microsoft App-V MVP, VMware vExpert and virtualization blogger, Rory Monaghan has joined Algiz as CTO, Americas.
It does seem strange that a seasoned application packager would want to join a company that focuses on automating App-V sequencing.  Surely automation is a threat to manual application packaging and sequencing?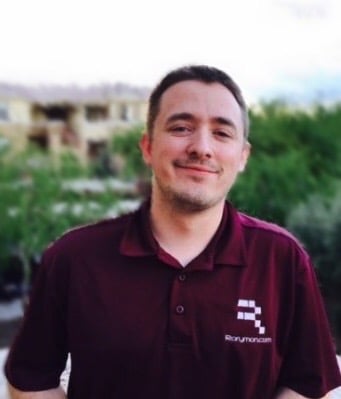 "It's quite the opposite", says Rory. "App-V offers so many benefits to organizations that are trying to simplify their IT operations, but the App-V sequencing process can be slow and costly, which can prevent customers from using it."
"Looking at the bigger picture, the two bug-bears of any IT project are delays and cost.  If you can get applications into users' hands quicker and you've managed to dramatically cut the cost of your virtualization or Windows migration project, then you've made a huge case for IT being entrusted with more ambitious virtualization initiatives."
"As a packager, if you can automate a lot of the mundane, repetitive apps, then you've freed up your time to focus on the more challenging, and frankly more interesting, conversions.  You're not going to learn a huge amount by sequencing the easy stuff.  Sure it pays the bills, but unless you get time to focus on the complicated packages you'll never work your way up the skills ladder."
One of the main drivers for joining Algiz Technology was Rory's glowing review of ConversionBox, the automation solution used to accelerate sequencing.  "I have to confess I was pleasantly surprised by how good it was, so when Algiz got in touch I almost had a Viktor Kiam moment – I liked the product so much, I joined the company."
William and Rory have already started introducing the automated sequencing service to organizations either currently considering, or already using, App-V as a key component of their application virtualization strategy.  "Rory comes to us with a wealth of industry experience and knowledge of this technology, so we're excited to have him on board to establish Algiz Technology as the go-to company for App-V sequencing," says William.
More about Rory Monaghan
Rory Monaghan and his family moved from New York to Galway, Ireland when he was a child. It was there that he went to college and started his first job in IT as an MSI packager and SoftGrid Sequencer and later progressed into a consulting role as a Transition Manager. He has recently returned to Galway, Ireland, where he currently lives, works and writes about virtualization.
You can read the original press release here.