In today's digital age, the concept of a workplace has undergone a significant transformation. With the advent of technology and the recent pandemic, organisations have embraced a digital workplace model that enables employees to work remotely from anywhere in the world.
However, with the rapid pace of technological change, organisations can struggle to keep up with the latest trends and ensure that their digital workplaces are optimised for success. In this article, we'll explore the pros and cons of digital workplaces, the solutions available, and a simple action plan to create a more productive and engaging remote work environment.
What is a digital workplace?
A digital workplace combines various tools and technologies that make remote work possible. These include collaboration tools like video conferencing, instant messaging, file-sharing platforms, project management software, cloud storage solutions, and virtual private networks (VPNs). Using these tools, employees can communicate and collaborate from anywhere in the world, leading to significant cost savings for their organisations.
A digital workplace is different from a digital workspace. The first is about creating an environment where people can collaborate. The second is about the technologies needed to enable online communication and collaboration.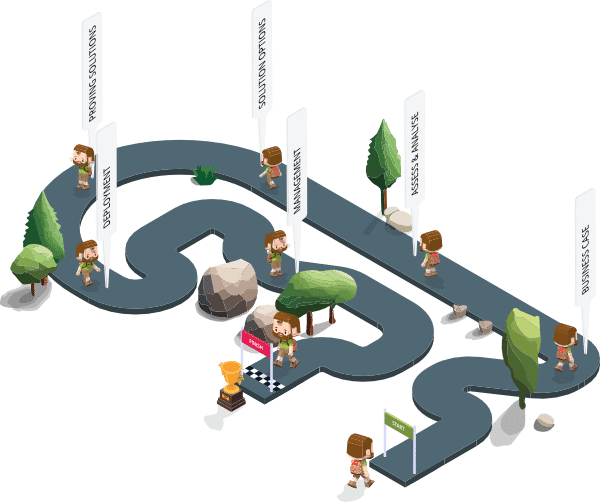 A step-by-step approach to your workspace Digital Transformation project.
VIEW THE GUIDE
While digital workplaces offer several benefits, they also come with a few drawbacks.
Advantages:
Increased flexibility: Digital workplaces offer employees the freedom to work from any location, anytime. This means that employees are no longer confined to a physical office space and can work from the comfort of their homes, improving work-life balance.
Cost-effective: Digital workplaces can be cost-effective as they eliminate the need for physical office space. Companies can save money on rent, utilities, and office supplies. This can be especially beneficial for small businesses looking to cut costs.
Improved productivity: Digital workplaces can increase productivity as employees can work at their own pace and in an environment that suits them. Furthermore, digital tools such as project management software and communication platforms can help employees collaborate more effectively.
Disadvantages:
Communication challenges: One of the biggest challenges of digital workplaces is communication. Employees may find it difficult to communicate with each other effectively, which can lead to misunderstandings and errors.
Lack of team building: In a digital workplace, employees may miss out on team-building activities and socialisation opportunities available in a physical office. This can impact team morale and cohesion.
Security concerns: Digital workplaces can be vulnerable to cyber-attacks and data breaches. Companies need to ensure that they have robust security protocols in place to protect sensitive information.
Digital workplaces – pandemic and beyond
The digital workplace has become an indispensable unit for organisations to maintain their operations, particularly in the face of the unprecedented challenges brought about by the recent pandemic.
Remote work
The rapid onset of the pandemic led numerous organisations to swiftly implement remote work. With the advent of digital workplaces, employees could carry out their duties from the safety and comfort of their homes, mitigating the associated risks. The availability of tools such as video conferencing, instant messaging, and collaboration platforms facilitated real-time communication and collaboration among colleagues, making the transition to remote work as smooth as possible.
Collaboration and communication
Technology advancements have revolutionised how employees work and communicate with each other. The introduction of innovative products such as Microsoft Teams, Zoom, and Slack has enabled workers to collaborate and exchange ideas, irrespective of their physical location. This has significantly increased efficiency, as remote workers can communicate in real time, share files and work together on projects, eliminating the need for face-to-face meetings and unnecessary travel. The digital workplace has brought about a paradigm shift in how people work, providing a flexible and seamless working environment that caters to the needs of employees.
Cloud storage and document sharing
Thanks to cloud storage platforms like OneDrive for Business, Dropbox, and Google Drive, employees can now access files remotely, so there's no longer a need for physical document sharing. Accessing documents and files remotely has made it much easier for teams to collaborate on projects, regardless of location.
Increased productivity
With tools such as project management software, employees can track their tasks and deadlines, ensuring work is completed on time. The ability to work remotely has also eliminated the need for long commutes, giving employees more time to focus on their work.
Improved employee wellbeing
The pandemic significantly impacted the overall wellbeing of employees, as many grappled with feelings of nervousness and tension. However, the modern workplace has been a game-changer, enabling employees to work remotely from the comfort of their homes. Not only has this eliminated the stress of daily commutes, but it has also allowed employees to better manage their professional and personal lives, thereby significantly boosting their overall wellbeing and work-life balance.
Digital workplace strategy
By leveraging the right strategies and tools, companies can create a modern and efficient workplace that supports collaboration, productivity, and innovation.
Embrace cloud-based solutions
These solutions offer various advantages, including scaling operations, reducing costs, and easily accessing data and applications from anywhere, using any device. Companies can deploy critical business applications and store data on the cloud, ensuring employees can access the necessary tools, regardless of location. Workspace virtualization
Get secure data and apps to users without the VDI headaches.
Foster collaboration
Effective collaboration is a crucial aspect of a flourishing digital workplace. Companies can foster collaboration by utilising diverse tools to exchange ideas and opinions, and stay connected, even when working remotely.
Implement cybersecurity measures
In the current era of technology, cyber threats are becoming increasingly complex and widespread. As a result, businesses must establish robust security protocols to safeguard their digital workplace against cyber-attacks. Some essential cybersecurity methods include utilising multi-factor authentication, encrypting data, regularly updating software, and providing staff with training on the best practices for cybersecurity.
Leverage artificial intelligence and automation
With the support of AI-driven technology such as chatbots, virtual assistants, and automated workflows, organisations can streamline their operations, increase productivity, and optimise the customer journey. Moreover, AI can provide businesses with valuable data on end-user behaviour, allowing them to make informed decisions on improving the digital workplace experience.
Adopt a mobile-friendly environment
It is imperative to establish a digital workplace compatible with mobile devices and enable employees to work efficiently from mobile endpoints. This entails adapting business applications for mobile usage, ensuring safe remote access to company information and assets, and encouraging the adoption of mobile communication tools.
Digital workplace solution landscape
The implementation of a digital workplace can be done through a variety of solutions. These might consist of productivity tools like Trello, communication tools like Microsoft Teams or Zoom, document management systems like OneDrive for Business, Google Drive, or Microsoft SharePoint, and collaboration tools like Microsoft Teams or Slack.
This breakdown of the workplace technology landscape, based on work done by InvGate, is by no means comprehensive but gives you an idea of what's out there. Some specialise in a single task whilst many are a suite of tools that cover a variety of areas and use cases.
CMR
Bitrix24, Monday, Hubspot, Salesforce, Zoho
Collaboration
Confluence, Google Workspaces, Lucid, Miro, Monday, Mural, Office 365, Range
Communication
Basecamp, Google Meet, Google Mail, Microsoft Teams, Slack, Zoom
Data analytics
Cognos, Google Data Studio, Power BI, Tableau
File storage
Box, Dropbox, Google Drive, OneDrive
Project management
Asana, Basecamp, Bitrix24, ClickUp, Jira, Monday, Notion, Trello, Wrike
Video conferencing
BlueJeans, Google Meet, GoTo, Microsoft Teams, TeamViewer, Zoom
Workflow management
Airtable, InvGate, Kissflow, Monday, Trello, Zapier
Customer Success
Gainsight, Hubspot, Totango
Customer Support
Freshdesk, Invgate, Zendesk, Zoho Desk
Experience Management
Ask Nicely, ChurnZero, Medallia, Reputation, SurveyMonkey
Access management
Auth0, Microsoft Active Directory, Okta, OneLogin
Cloud services
AWS, Citrix Cloud, Google Cloud, IBM Cloud, Microsoft Azure, VMware Cloud
Desktop-as-a-service
Amazon Workspaces, Azure Virtual Desktops/Windows 365, Citrix DaaS, Inuvika, V2Cloud, VMware DaaS
Event management
AppDynamics, Datadog, Logic Monitor, PagerDuty, Splunk
Incident management
InvGate, ManageEngine, ServiceNow, Spiceworks, Zendesk
IT asset management
InvGate, Ivanti, ManageEngine AssetExplorer, Solarwinds
IT financial management
InvGate, ServiceNow, Nicus Software, Tipalti, KP-One
IT service management
Freshdesk, InvGate, ManageEngine Service Desk Plus, ServiceNow, SOlarwinds Service Desk
Mobile device management
Jamf, SOTI MobiControl, Miradore, Scalefusion
Remote desktop
AnyDesk, ConnectWise, FixMe.IT, GoToAssist, Splashtop, TeamViewer, Zoho Assist
Security
FuzzDB, Gerrit Code Review, Invicti, Oracle Database Security, Parasoft, Red Hat Ansible Automation Platform, Veracode, WhiteSource, WireShark
Expense management
Certify, Expensify, Paylocity, SAP Concur, TripActions
File storage
Box, Dropbox, Google Drive, OneDrive
HR management
BambooHR, Darwinbox, Gusto, Keka, Workday
Hybrid workplace management
Archie, Envoy, Kadence, OfficeSpace, Proximity
Request management
InvGate, Jira Service Desk, ManageEngine ServiceDesk Plus
Video conferencing
BlueJeans, Google Meet, GoTo, Microsoft Teams, TeamViewer, Zoom
Digital workplace adoption plan
To create a successful digital workplace adoption plan, it's important to understand the needs and preferences of your employees. Begin by conducting a survey or focus groups to gather information about how they currently work and what improvements they would like to see. This will help you identify the most relevant technologies and tools for your organization.
Next, establish clear goals and objectives for your digital workplace initiative, such as improving collaboration, increasing productivity, or reducing costs. Develop a roadmap outlining the steps needed to achieve these goals, timelines, and key milestones.
It is also essential to involve employees in the planning and implementation process. This can include training and support to ensure everyone is comfortable with new technologies and workflows. Consider establishing a digital adoption team to help facilitate the transition and provide ongoing support.
Finally, measure the success of your digital workplace initiative by tracking key performance indicators, such as user adoption rates, productivity metrics, and cost savings. Use this data to continually refine and optimise your approach, ensuring that your digital workplace continues to meet the evolving needs of your organization.
Conclusion
The digital workplace is a rapidly evolving field, and organisations must continually adapt and innovate to keep up with changing technologies and trends. It has made remote working more efficient, increased productivity, and improved employee wellbeing.
By leveraging the right strategies and tools, companies can create a modern and efficient workplace that supports collaboration, productivity, and innovation.
The key to success is to stay updated and continually innovate and adapt to changing business needs.