In my experience, while Citrix is very widely used in the enterprise, the remote work strategies of most organisations have relegated it to use for consuming the published resources internally on the corporate network from a traditional workstation in the office – remote access was secondary.  That was in the past – with COVID-19 that's been flipped on its head and Citrix Cloud is high on the agenda. 
NOTE
This post has been updated to reflect that Windows Virtual Desktop has been renamed Azure Virtual Desktop.

In my opinion, there's been a profound shift for most organisations with office workers to a future 'Work from Home' strategy. The tech is already there to allow it, and for most, there hasn't been a significant drop in productivity. The benefits and gains of such a strategy are clear to see.

Anecdotally, I have heard from friends and former colleagues about how they've adapted to enable their workforce to work remotely. For Citrix customers, many have purchased thousands of additional licenses and ramped up their Citrix farms to accommodate the demand. In a way, those who were already Citrix customers were the lucky ones. They already had a tried and tested mature solution at the ready.

What about those who did not have an existing Citrix farm? Or who didn't have a proper remote access solution at all?

The ability to quickly get set up and running in the cloud for such a solution should prove pretty enticing, right? In the midst of a pandemic projected to cause an economic depression, Citrix saw a 20% increase in revenue last quarter.

Microsoft brought Azure Virtual Desktop (AVD), formerly known as Windows Virtual Desktop, to the market last year and has seen Azure consumption grow significantly during these trying times. There's been a three-fold increase in usage of AVD.

Of course, these cloud platforms aren't just for those who don't have their own data centres or solutions in place already. In fact, if you're a Citrix customer, you have likely already had a salesperson try to incentivise you away from a traditional perpetual on-premises based Citrix license to a Citrix Cloud based subscription license. Possibly in a way that would allow you to continue completely on-premises for now with a view to transition to Citrix Cloud in the future.

Some organisations have been consuming Citrix products in a hybrid configuration with their own AWS, Azure or GCP tenants. In some cases they've even been running the user load up there, which can be quite costly, but with some cool benefits. For example, those using VMware Cloud on AWS, can use Citrix PVS in the cloud, whereas those using Citrix Cloud don't have that option, at least not yet…PVS is Citrix's best product, in my opinion.

Unfortunately, for those already running user loads in their own cloud tenants, Citrix has started to apply a little pressure. With the release of Citrix Virtual Apps and Desktops version 2003, Citrix announced the deprecation of support for public clouds. For those who want to run a user load in the cloud, they'll need to use Citrix Cloud OR stay on the Long Term Service Release version 1912 to keep a user load running on their existing tenants, which will mean they won't get new features as they come out, only fixes.

Bummer!

That's an important point. If I were writing this blog post a few weeks ago, I would have pointed out the flexibility for Citrix customers to run the products on any cloud platform they prefer vs Azure Virtual Desktop, which as you'd expect is only supported on Azure.
Application Delivery for Global Financial Services
Issues | Best Technology | Case Study | Practical Steps
Flexibility
Looking ahead, there won't be an option to run a user load on your existing public cloud tenant of choice with the current release of Citrix Virtual Apps and Desktops. However, the fact you can still do so with version 1912 suggests that it should at least continue to be supported for close to 5 more years. I would advise anyone setting up from scratch to NOT roll their own with version 1912. For those who already have a user load running in say AWS today, I don't think there's a pressing need to rush off of that setup just yet. You have some time.
One of the criticisms some have made about Citrix Cloud is that it wasn't built cloud-first. It's the on-premises tooling shifted to the cloud, which can make for a less than optimal management experience at times. BUT others with experience of managing Citrix farms will have the benefit of a pretty familiar admin experience. It could be positive depending on your perspective. For now, Azure Virtual Desktop only runs in Azure. You can run it on-premises with Azure Stack, but as of now, I'm not aware of a hybrid configuration.
At the time of writing, Citrix Cloud is more flexible than AVD.
Image Management and Tooling

To expand on the aspect of the management tools, I would like to cover various layers that make up the management and end-user experience in the next few sections, starting with the management consoles\interfaces including image management and desktop creation and support.
The Citrix Cloud tools mostly include the same consoles and tools you're familiar with from on-premises implementations. Heck, Studio is still its MMC self 😊 . The difference is you aren't accessing the Console from an install on your workstation, jump server, or Delivery Controller. You access it via your browser.
Recently Citrix Studio in Citrix Cloud received a facelift. There is now a pretty slick web-based Console for your management needs with the MMC tools you're familiar with still available as an option too.
While there is no PVS…yet…MCS is available and works just like when it's on-prem. Citrix WEM is available, as are a slew of other options, such as some advanced analytics, ADM for more analytics and monitoring capabilities, Mobile Device Management and more.
If you would like to keep the user load running on-premises and publish some apps or desktops directly from Citrix Cloud, you can do that. At the moment, you require a couple of Citrix Cloud Connector servers set up in your farm to allow the cross-talk between on-prem and cloud to occur. Publishing applications and desktops are just as simple in the cloud. There isn't much of a learning curve.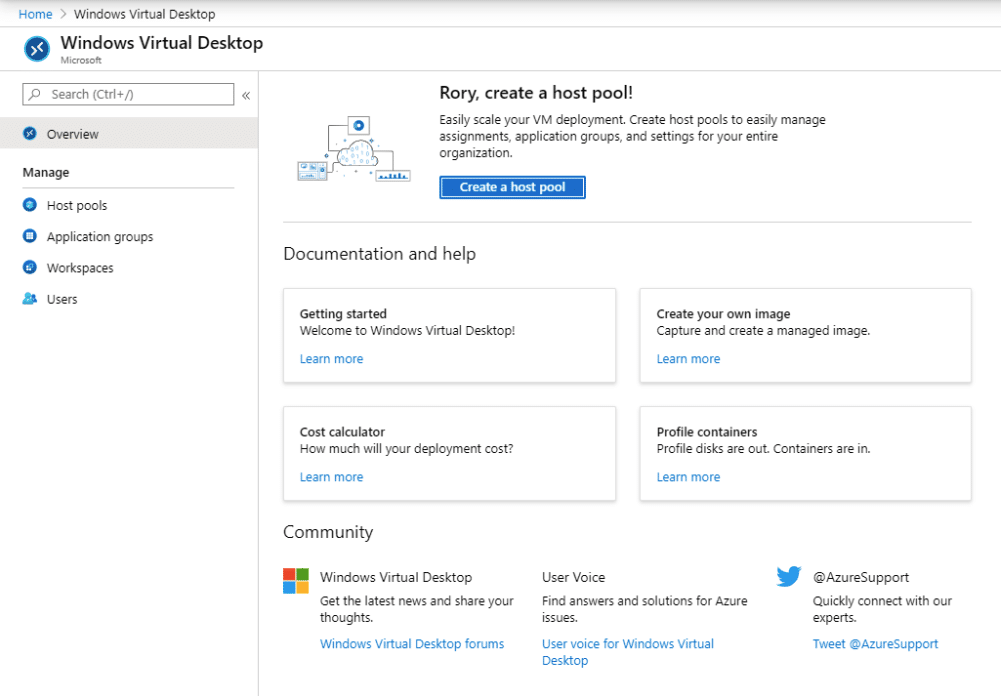 If I posted this a few weeks ago, I would have told you AVD doesn't have much in the way of management features. You were left to your own devices using existing Azure menus and services. Fortunately, Microsoft just launched a Management Console. Right now, it doesn't have a whole lot, but it does make creating pools and publishing your resources a little more straightforward.
In my opinion, AVD is still a little immature as a product and as such does not have the rich feature set of its competitors. If you want a more feature-rich management experience with AVD, you'll need a third party product like CloudJumper's Cloud Workspace Management Suite.
Citrix and Microsoft have actually worked together on marketing Citrix Virtual Apps and Desktops Standard for Azure which can work with AVD – essentially allowing you to use some of Citrix's tooling to better manage your AVD resources like the application delivery and presentation layer. I don't have much of a head for the cost and business end of things but consuming AVD and using some of the Citrix products to improve the UX may make financial sense in the long run too.
Client-Side
The Remote Desktop Client on the client-side is not as rich of an experience as using Citrix Workspace with the Workspace App. There have been plenty of great research papers published showing that the current RDP protocol is very close to Citrix's HDX protocol. From a protocol level, they should be neck and neck, but in my experience, the display with Citrix is richer, and it seems to handle disconnects more gracefully when they do occur.
As of writing, there is also support for optimised delivery of Zoom, Skype for Business, Cisco Jabber, WebEx, Avaya One-X and Teams.
When I first worked with Citrix Cloud in 2019, application launches of published apps in Citrix Cloud were noticeably slower than traditional on-prem published app launches but now there is very little difference in performance. Likewise, AVD performance was less than stellar when I first used it in preview and just after it became generally available but with UDP ShortPath and just general performance enhancements along the way, there has been a noticeable improvement.
I will say when launching applications through Citrix Workspaces, particularly when they're apps published running in Citrix Cloud, the launch times are noticeably much worse than your traditional launches of on-prem resources. I didn't take out a stopwatch, but while AVD launches are slow too, they didn't seem to me to be as slow as with Citrix Cloud. Comparing the two could make for an interesting article!
I'd still give the nod here to Citrix Cloud.
Profile Management
There are some great benefits to AVD. Like the fact that you can select an image from the gallery and start with a base Windows 10 and customise to your heart's content. Microsoft customers with AVD also own Office 365 and FSLogix, which is a pretty solid foundation to build on. FSLogix was the number one solution for roaming Office 365 settings in non-persistent desktops BEFORE it was acquired, so it gives Microsoft a leg up for AVD.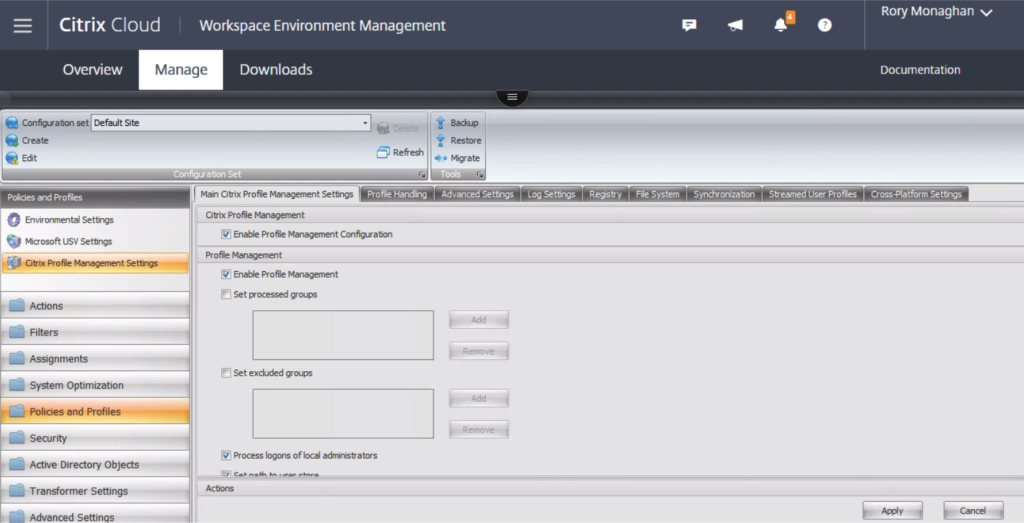 Citrix Profile Management can be configured via Citrix WEM. I believe you can also enable FSLogix through WEM too. Most organisations who can afford to run Citrix most likely also own FSLogix through their Microsoft licensing BUT FSLogix is rolled in and ready to use in AVD.
I actually prefer ShareFile to OneDrive in terms of Cloud Storage for collaboration and productivity, which is also worth considering here BUT for pure profile management, FSLogix Profile Containers are a better solution than CPM. AVD wins this category.
Application Management Delivery
It would be awesome if there was a good solution for managing application delivery to the desktops in AVD, but right now there isn't. That may come later in the form of MSIX App Attach.
For now, on both AVD and Citrix Cloud, I set up a file server in Azure and install App-V Scheduler on it. I put the App-V Scheduler agent and App-V client in the desktop image, and that delivers the rest of the apps. I am essentially keeping a pretty small image. So, AVD works great for me in that regard as I pretty much have what I need out of the box pre-canned. I just add my agents and enable the App-V feature.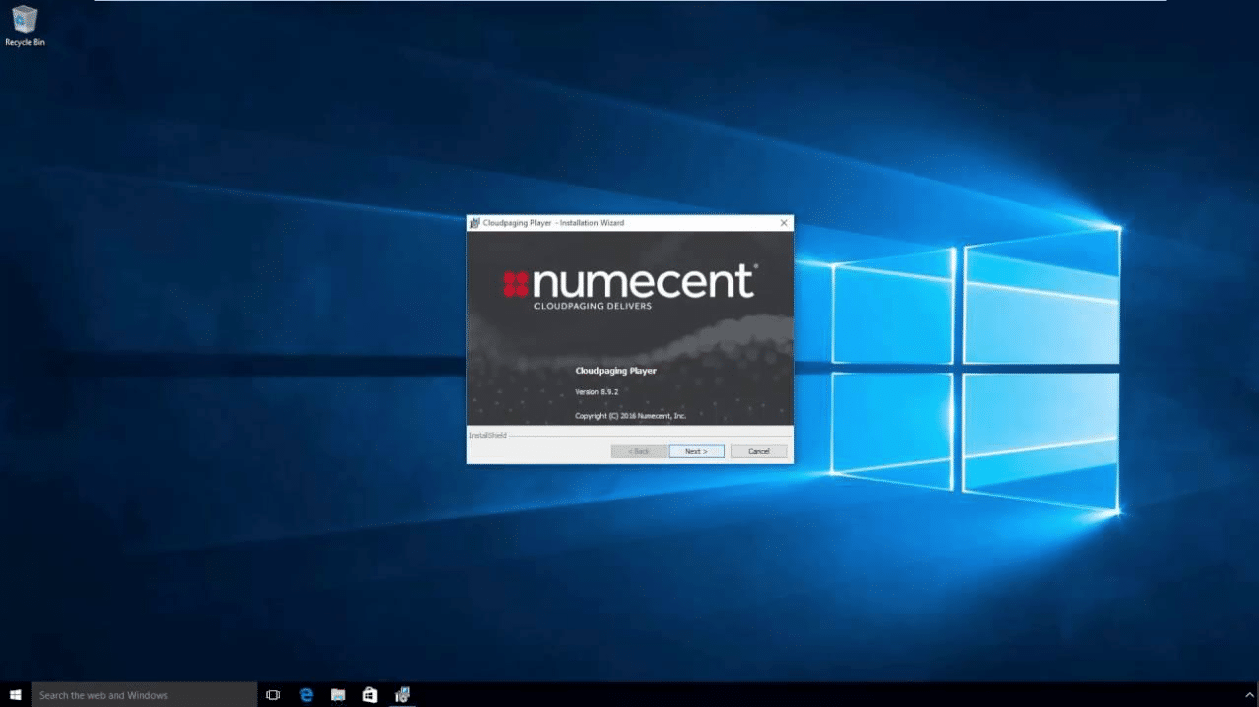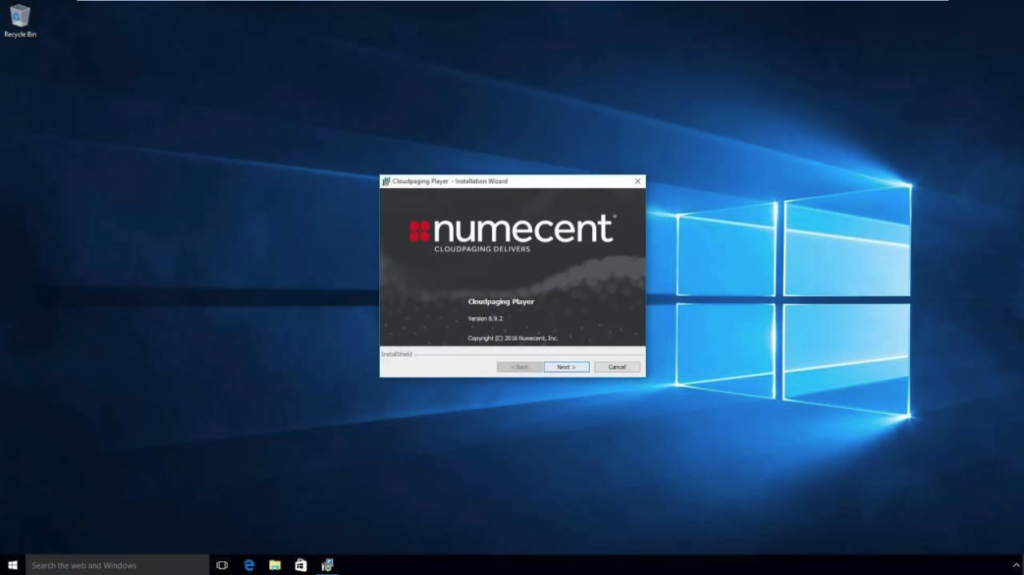 Sadly, Microsoft is moving away from App-V so I couldn't in good conscience recommend customers who are going to AVD to use App-V right now. Numecent Cloudpaging is much better than App-V, and they are an AVD partner, I suggest using that for your app delivery needs. They also support Citrix so it would work there too.
Citrix has built-in integration with App-V. I could give them the win for that reason, but here I'm going to say it's a DRAW.
Neither vendor has tackled the challenge of app delivery and management. I suggest looking to Numecent Cloudpaging for that.
Monitoring
Azure Monitor for Windows Virtual Desktop has just been made generally available. It's a little light on resource utilization and user experience data but it is quite useful for trending resource utilization against cost. Citrix has great data around security analytics but also provides user performance analytics too. Citrix and Microsoft both partner with vendors like ControlUp who provide much richer real-time performance monitoring products.
Result Draw: Both performance monitoring offerings are good for some quick hit data but it would be best to work with a 3rd party product for richer real time data.
Honourable Mention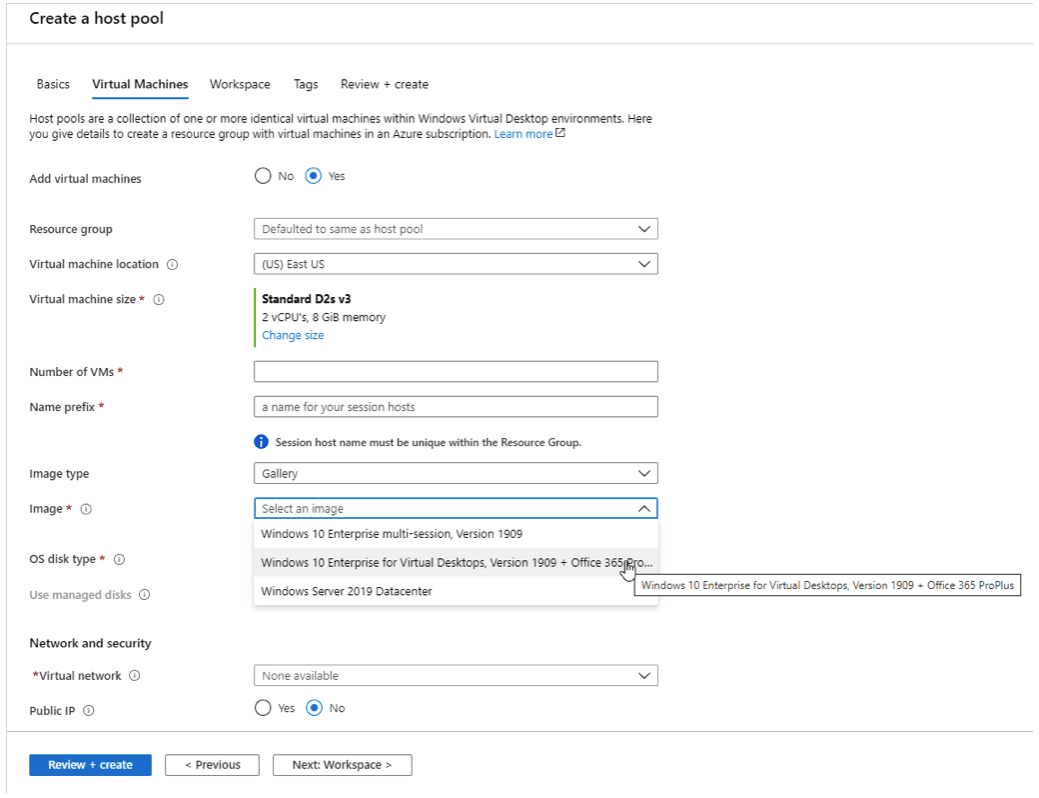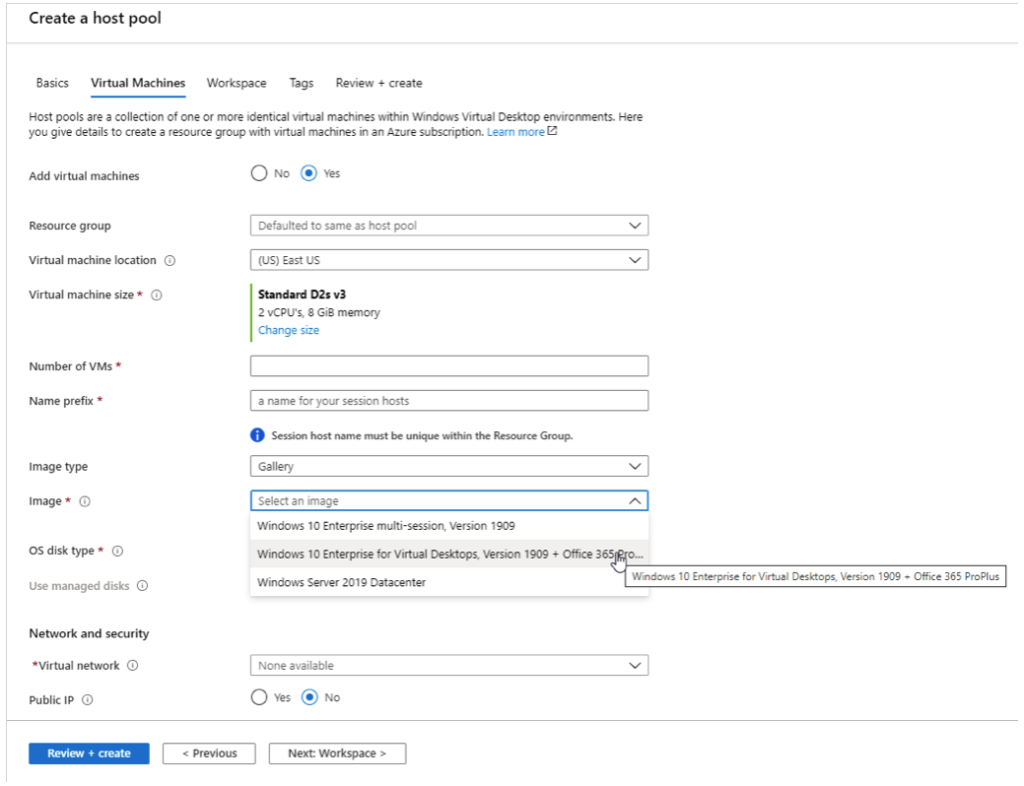 Another great feature in AVD is the Windows 10 EVD which is a multi-user Windows 10 desktop! Trentent and I covered this in a previous blog post and why that's awesome. I still hope that someday Microsoft will expand support for its use on-premises!
Microsoft has the benefit of owning its own cloud platform with Azure. If you look at that and account for the fact you get Azure Active Directory, MFA, Azure Monitor, etc. it's pretty good. However, for the sake of comparison, I'm only going to consider the features at the management and UX delivery layer rather than the platform layer, so with Citrix Cloud, you get a lot of great tools and features for managing the desktops, apps, and for providing a rich experience on the client-side.
With AVD, to even get close on those same types of features you need to purchase additional 3rd party products and services. Overall, Citrix Cloud is easier to manage and has a richer feature set.
Security
When using AVD with CloudJumper's product, there are some nice built-in management features that provide security like managing AppLocker policies. If you throw in some PolicyPak (a AVD partner) goodness, you can get that sucker really secure with the Least Privilege Manager feature.


With Citrix Cloud, you get the Analytics that can highlight bad actors trying to access your environment and behaviour or access anomalies. You can use Citrix Policies for granular tweaking to restrict or enable certain features and functions. You can set access criteria and achieve context-based app access with Citrix Cloud. You can use Secure Browser for publishing some of those SaaS apps you want your users to access but in a more locked-down browser. It's also worth noting that you could also use AppLocker and even enable it through WEM if you like.
Citrix Cloud is pretty stacked when it comes to security features.


As I said, you can also get AppLocker in use with Citrix Cloud plus get PolicyPak in play here too to leverage Least Privilege Manager. So that's not something AVD has over Citrix Cloud. While Azure provides you with Azure Analytics and Monitoring and the impressive Sentinel product for the depth included with Citrix policies, Secure Browser, and client-side security.
I give this one to Citrix Cloud.
Conclusion
While Citrix pretty much runs away with this from a feature comparison standpoint, I believe Microsoft is not necessarily trying to compete too aggressively, at least not yet. Scott Manchester (Group Program Manager Azure Virtual Desktop, Microsoft) sat down with Sean Donahue (Principal Alliance Product Marketing Manager, Citrix) for a talk last year, and waxed lyrical about AVD and Citrix together. I can recall early on RDmi's value proposition (predating the name AVD) was to become a building block for other vendors like Citrix. The same way they do on-prem with RDS.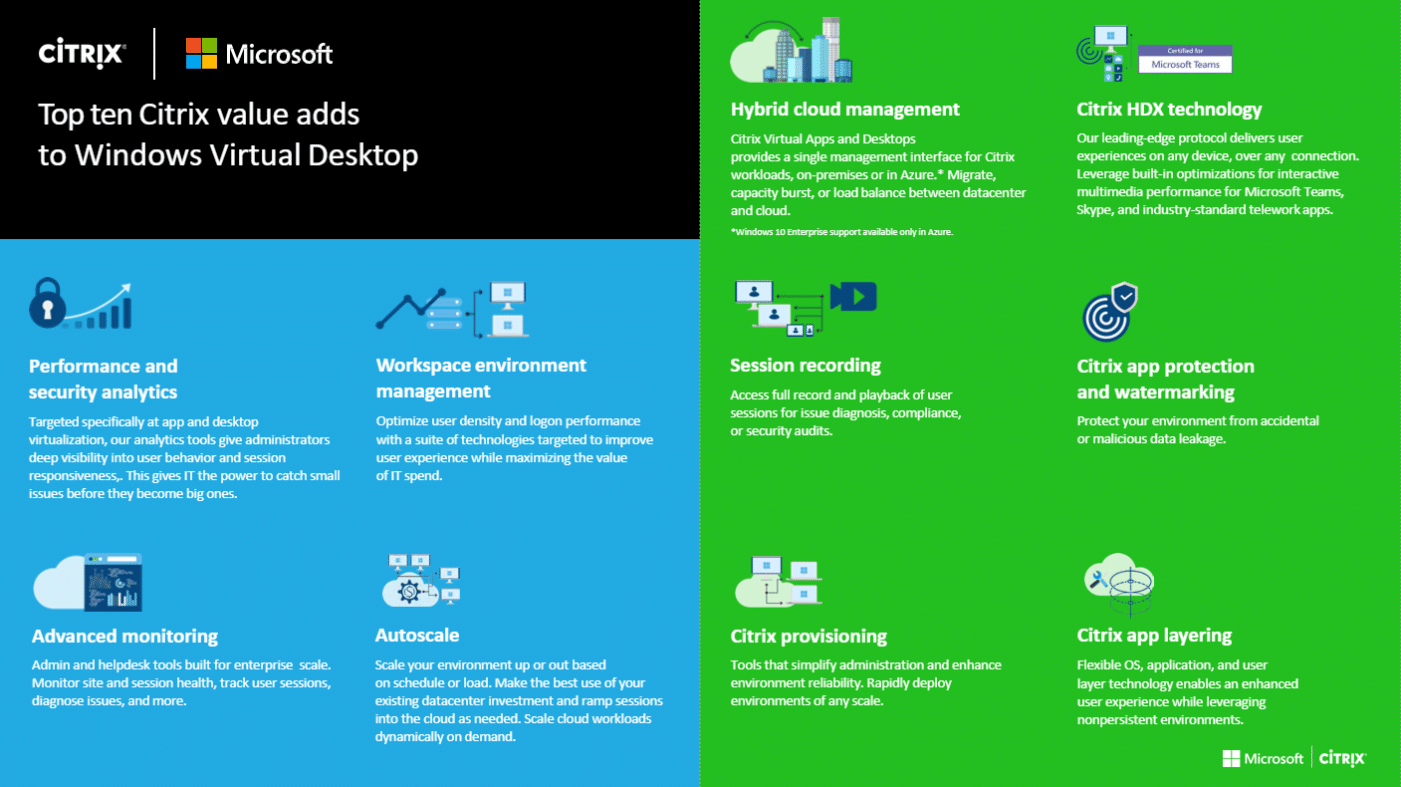 Recently, Tom Hickling of Microsoft took part in the Irish CUGC and talked even further about what value Citrix adds to AVD which covers even more than I mentioned when dissecting different layers. There will be some customers who'll immediately see AVD as a good fit. There will be others who need and want the entire awesome feature set that Citrix brings. I recently had a discussion with Claudio Rodrigues (Ex-Microsoft MVP/Citrix CTP) who's coming up with his own solution for making AVD a little more hybrid. He's bringing his images from on-prem up to the cloud, which is something Citrix App Layering can also help you achieve.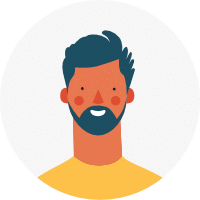 Virtualise and decouple all of your of apps, and deliver them everywhere using just ONE image!
Virtualise and deploy 1000's of apps to users in multiple locations and departments using ONE image!
Discover how we did it for this multinational organisation and how we can do the same for you.
In recent years, most organisations I have worked with have opened up to the possibility of leveraging the cloud but mostly in a hybrid configuration. That may see more interest from larger organisations in Citrix Cloud, but they may also have some pockets of use cases for running a user load in the cloud, which if made attractive and seamless enough could run AVD. It's really hard to predict because right now, there's such a demand due to COVID-19 that whoever provides the best sticker price may win the largest stake.
Citrix Cloud or AVD? While Citrix runs away with it in this comparison, it's not really about competing with each other.
Click To Tweet
Which one is best for you?
As always, it depends. Go out and try both or reach out to us, and we can help provide info specific to your needs and size.
More Resources
ABOUT THE AUTHOR
Rory Monaghan
Rory is a man of many talents.  He's a Microsoft Windows IT Pro MVP, international speaker and contributes to the online App-V community via his blog www.rorymon.com.
Simplify your migration projects!
Be amongst the first to know when we publish FREE guides and tools.