Unified Application Delivery
Aggregate different application delivery methods into one workspace and deliver any app to any device, on-demand.
Fragmented application delivery.
You've all heard of VDI sprawl, but 'app store sprawl' is now becoming a real problem because no one technology can deliver all of the applications your users need on the devices they want to use.
It means you end up using a variety of platforms to deliver apps, each of which has its own front-end user portal. Unfortunately, your users must remember how each app is delivered and go to the relevant portal to find their software. That causes problems for everyone: it's a headache for users who just want to get on with their work, and it's a burden on IT, who face increased help desk support calls.
We make everything simpler by bringing together multiple application delivery technologies into one place.
How do we make your life easier?
Aggregate
Delivery methods
Give users
point of access
We help your workforce get more done, by giving them the software they need when they need it, on any device, anywhere, anytime. Our application workspace brings together multiple application delivery technologies into one place, to help you deliver all of your software in a way that's more efficient for IT and more user-friendly for the workforce.
Smart prioritisation
Assign multiple delivery methods to each app and order by preference, so users get the delivery method that's best suited to their needs.
AppSearch and Categories
Quickly search available apps or filter by category (such as 'marketing and sales', 'finance' etc.) to find what you want
Unified app store
Display one app store for all your apps, available on any device, including desktop apps, web/SaaS apps and mobile apps
App usage monitoring
Find out which apps are, and more importantly, are not being used, to see where you could save money on software licensing
Application compliance
Comply with vendor's licensing restrictions on a per-app basis.
Always the latest software
Manage and update software from a central location, to ensure apps being accessed are the latest up-to-date versions
Introducing AppsAnywhere.
Algiz Technology partner, Software2, develops AppsAnywhere, an intelligent web interface that unifies disparate application delivery methods and gives your end users access to all the software they need, all from a familiar and customisable portal.
How it works (in a nutshell)
Add an application, choosing your delivery method(s) and ordering them in terms of preference.

Set a variety of restrictions including OS, device and location.

Provision the application, choosing which groups of users can access which apps.

Deploy the application to the application workspace / app store portal, where users can go to access the apps they need.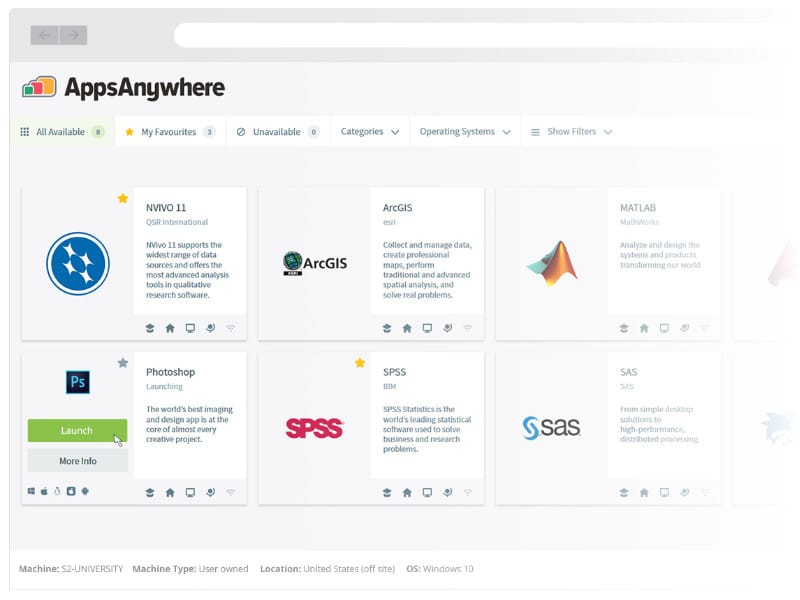 Supported delivery methods

Customer success – case studies