Say goodbye to application compatibility issues for continuously updated OS's with evergreen IT.
With the introduction of Windows 10 and Microsoft's strategic move to Windows-as-a-Service, we've been told to expect to see the end of major OS migration projects.  Microsoft plans to deliver two OS updates a year, but are you and your applications ready for that? Most IT departments aren't.
We don't want to play catchup all the time with our apps. We need to know they'll work with the next OS update.
The business wants to lead with technology, but we can't beat competitors if we're stuck with outdated, brittle environments.
How can we simplify and speed up decision making on a company-wide Operating System release?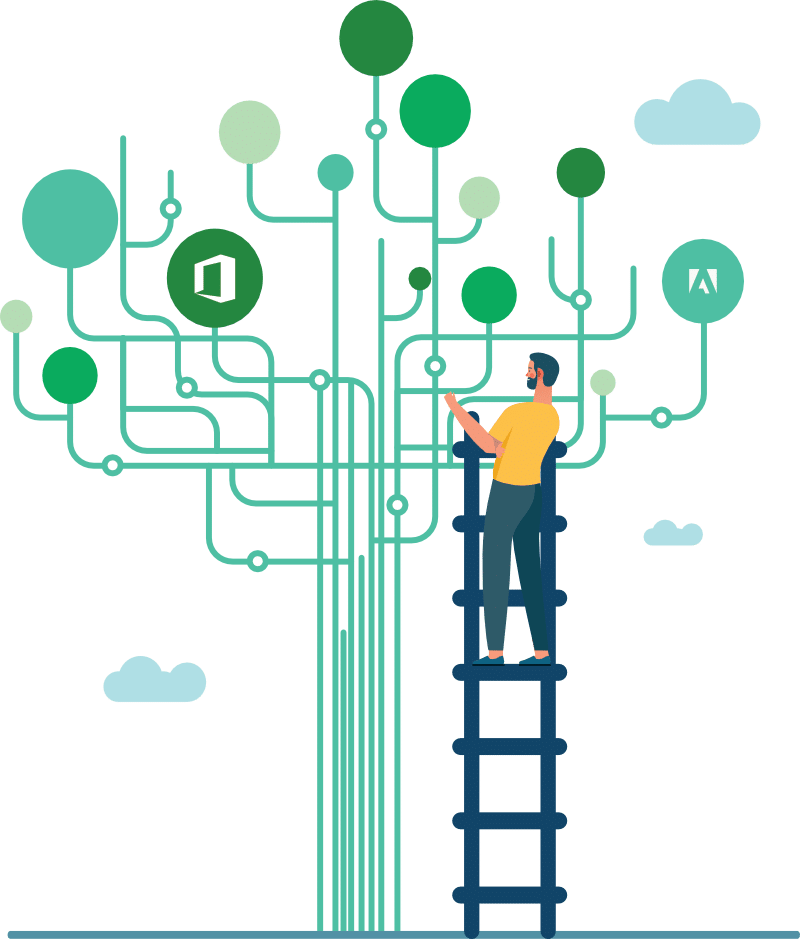 With our evergreen IT approach, we look ahead at the next two scheduled updates and make sure your applications will work with the latest releases.  From our experience, around 20% of an organisation's applications need to be updated each year.
Our service extends from adhoc packaging when you need it, all the way to an end-to-end lifecycle management service for applications, over either a 3- or 5-year period.  We'll ensure that in-scope applications are monitored, maintained and deployed, leaving you free to focus on other business priorities.

Helping you cut the cost and time of deploying Feature Updates by regularly pre-testing your business critical applications. 
Technical testing of each in-scope application against each new iteration or update of the Windows 10 target environment.  Applications are loaded, installed and de-install to assess their compatibility.
We'll tell you which of your in-scope applications will run on your current target environment within your chosen Windows cadence period (e.g. current/next/next+1 etc.)
Applications that can't be deployed on your chosen iteration of the OS will be re-packaged.  We will also package replacements of any retired in-scope applications and any new in-scope applications.
Technical testing of the new and re-packaged application(s) against the customer's target environment (load / install / de-install)
You have a number of applications that need packaging and want to keep your application estate up-to-date
You don't want to subscribe to an automated service but do want to amortise your  packaging costs on a monthly basis
You'll let us know, as and when you need our applications packaging service
You have a fully populated application estate
All applications are packaged and working the way you want them to BEFORE you engage Algiz Technology
We'll regularly assess the future functionality of your applications against your chosen Windows 10 cadence releases
Once you know which applications won't work you can upgrade, update, re-write and retire applications
Evergreen 360 (subscription)
Everything in the Evergreen service option

PLUS

repackaging is included as part of your monthly subscription
Per user per month pricing
Our Evergreen IT pricing makes it really easy for you to stay in control of rollouts and budgets.  With per user per month pricing you can choose to control your deployments by priority business functions or application users.  
Regardless of whether you're a service provider or the in-house IT manager, we're here to lighten the load depending on how hands-on you want to be. If you want to manage the deployment tools and environment such as SCCM, fantastic! We'll focus on getting your applications ready for when you need them. However, if you want us to manage both, we're ready when you are.
We'll do as much or as little as you need us to.

"Algiz Technology's specialist knowledge and professional approach has allowed us to implement solutions for clients quickly and effectively. They have easily been the best and most reliable application packaging partner we've had."
Enterprise Solutions, Ireland

Enterprise Solutions, Ireland
Rest assured, we do this a lot
Big or small, local, national or multinational. VMware, Citrix, App-V, MSI's, SCCM….
We've got you covered.
Windows 10
Migrated 5,500 users to Windows 10. Deployed using SCCM.
Centralised Application Delivery
Delivered virtualised applications to 4,000 users using Citrix.
Device Migration
Migrated 90,000 devices to Windows 10. Using App-V, MSI and SCCM.
User Migration
Migrated 6,000 users to Windows 10 using Intune to deliver applications.
Real enterprises with real problems solved.
Find out more about what we do, tell us about your project, your issues, or of any existing technology partners we need to work with.