Device Discovery
Identify and monitor your network, cloud and endpoint infrastructure in REAL-TIME.
You can only deal with what you know about.
Organisations merge and separate, install new systems and retire older ones and many, if not all, have plenty of end-point devices, which change on a day-to-day basis.
But what about the devices and end-points that have fallen off the radar over time?
Most commonly used network analysis and reporting tools rely on the presence of agents on the endpoints, therefore 'rogue', unknown end-points, are not reported – but they're still present, and potentially a source of risk.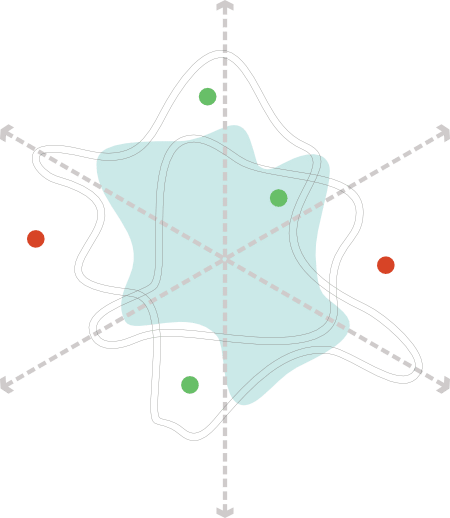 We give you the full picture.
Algiz Technology helps you discover present, but unknown, endpoints – find out what they're doing, and if necessary, address any vulnerabilities they may be introducing into your network.
Point in-time
scan
of all endpoints
Continuous
monitoring
of network or segments
Eliminate up to
40%
of blind spots
Introducing Lumeta.
Algiz Technology partner, Lumeta, develop sophisticated network situational awareness tools to help information security professionals remediate the unknown in your enterprise network.  IPSonar gives you a point-in-time scan of all IP-based end-points within your enterprise, and Spectre provides continuous monitoring of your network, or specified network segments.
IPSonar
Provides a fundamental understanding of the networks and network elements at a given point in time.
Highlights the presence of unauthorized (e.g.zombie) devices
Provides an authoritative source for:
IP address space and network infrastructure visualization
Routed and bridged topology
Discovery of connected devices/profiles
Cybersecurity anomalies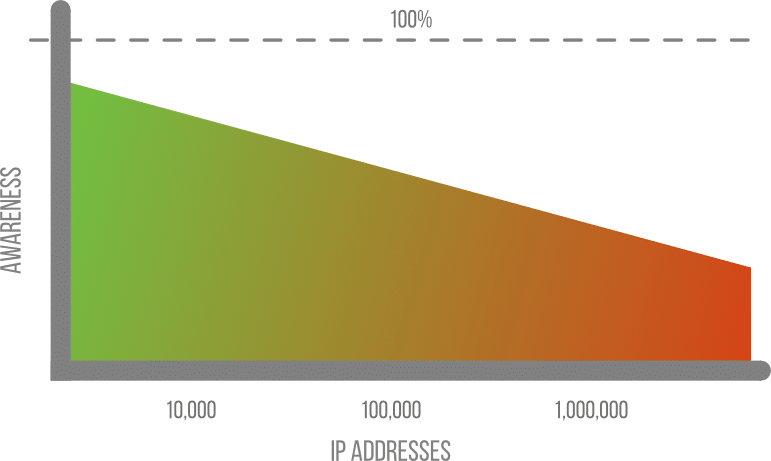 Network Infrastructure Analytics
Hunt for dynamic changes to the network edge and changes caused by virtual, cloud, mobile assets on your network.
Breach Detection
Hunt for anomalous behavior like unauthorized (zombie) communications flows to known bad actor sites.
Network Segmentation Analytics
Hunt for leak paths to the Internet or in between firewalled enclaves.
How does IPSonar work?
IPsonar uses a number of active probing techniques, in a recursive fashion, along with proprietary "stitching" analysis algorithms to provide a complete index of the network.  Typically, this process leads to 20% more identified networks, devices, and compute resources on a physical infrastructure.
A key reason why network asset management, vulnerability assessment, network modelling and other tools in the security defence in depth stack have not been fully effective is that their starting point, e.g., what the client understands about their network, is assumed to be true. However, experience determines that it never is.
Vertical industry example
| | Manufacturing | Financial | Technology |
| --- | --- | --- | --- |
| Assumed device count | 60,000 | 600,000 | 100,000 |
| Discovered devices | 89,860 | 802,400 | 114,000 |
| Visibility gap | 33% | 25% | 12% |
| Unknown networks | 24 | 771 | 433 |
| Unauthorised devices | 0 | 0 | 2,026 |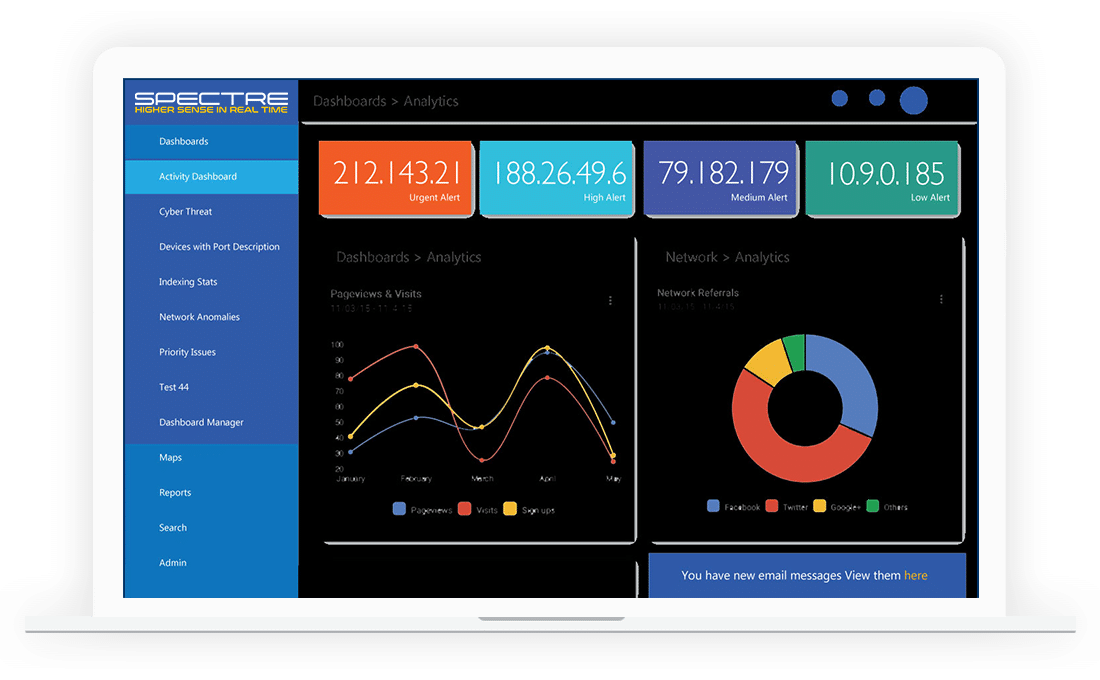 Spectre
Extends IPSonar functionality by enhancing Lumeta's Recursive Network Indexing techniques with the context of network state change.  This is achieved via analysis of network control plane protocols (OSPF, BGP, ARP, DHCP, DNS, ICMPv6, and others),
Spectre provides authoritative network situational awareness, in real-time, as mobile, virtual, cloud assets and even the physical/software defined network itself changes.  It also has "hooks and handles" to provide real-time feeds to remediation tools such as TripWire, McAfee ePolicy Orchestrator, Carbon Black, Qualys, Gigamon, Exonar Raven, HP ArcSight.
As a Lumeta Partner, Algiz are offering a FREE INITIAL SCAN of one of your network segments, to demonstrate how the Lumeta stack could benefit your organisation, and improve your cyber defences.
This initial scan report will be made available to you, and you are at liberty to use it as you wish.