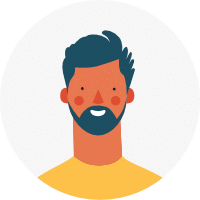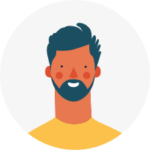 I need application packaging for my organisation.
We're running behind on application packaging projects. We just can't keep up!
We need specialised skills for complex applications that are holding up our migration.
We're struggling to find a long-term, reliable application packaging partner.
We have a sharp rise in demand for application packaging. We need short-term help.
An unexpected uplift in your packaging workload or not having the relevant skills in-house can be more than just an annoying inconvenience, it delays projects and the knock on effects can be painfully expensive.
We'll do the heavy lifting
It makes sense to allocate application packaging to the specialists and stay on top of your project.  And with Algiz Technology, you're always in control. 
We can help you at all stages of your packaging project.  The only thing you need to do is provide the source media for the applications.  This could be installation CDs or applications stored on your network.  Once we have that we can take the load off your shoulders.
Discovery & Media Validation
During this phase we identify the applications that exist in your estate as well as who uses them and how.  Once all the media has been identified, it is categorised and prepared for packaging.
We can provide guidelines if discovery is something you wish to do in-house.
Applications are packaged by our team in the UK where there is also an option to have dedicated resources on-site.
Packaging for international clients is performed remotely.
Every package you receive is accompanied by documentation which provides details of the package construction and a completed quality assurance checklist.
Packages may also include additional documentation that we feel would help you with deployment in a live environment.
Once we have tested the applications on your chosen platform we release them for comprehensive testing by clients.
By agreeing and adhering to packaging standards we ensure a very high standard of packaging and acceptance.
The leaky bucket approach
Your migration or packaging project has a lot of dependencies and it's just madness to get all of your packaged applications on day one.  You may not be ready for them.  In fact, by the time you get to the last application it may already be out of date and need packaging again!
We make sure applications are packaged and delivered to you when you're ready for them.  We don't flood you with apps you can't use just yet.  Source media goes in at the top and packaged applications trickle down to you just when you need them.
All packages have one simple, 'per-app' cost. This helps reduce the risk of budget over-runs once your discovery phase is complete because complexity is no longer a limiting factor.
There's no limit on the number of applications we can package either.  You can start with one or a handful, and then request more when you need them packaged.  
We use a combination of onsite and remote packaging to keep your costs down and get more applications into you hands when you need them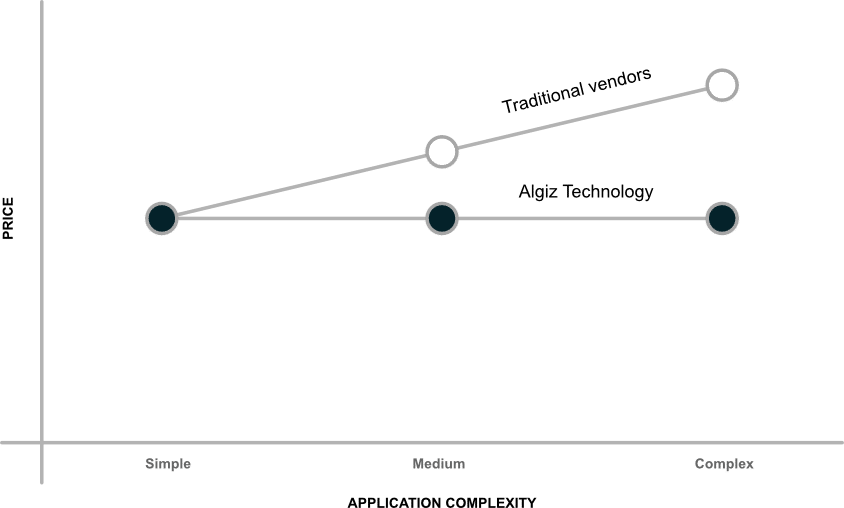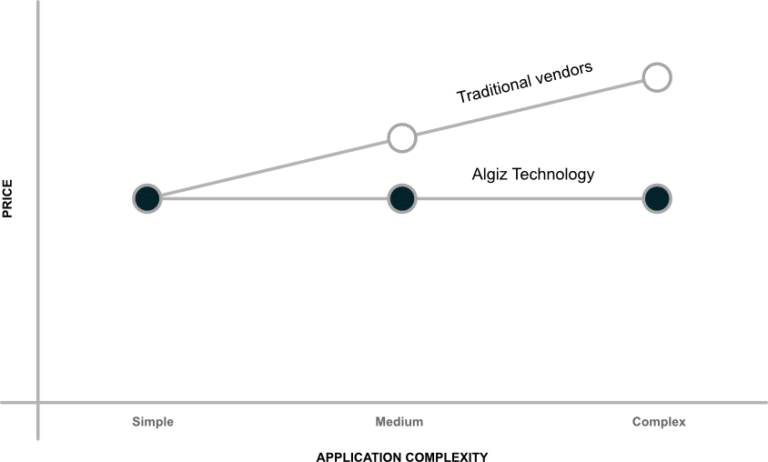 The pioneers of fixed price packaging
At Algiz, application complexity doesn't change the price you pay per app. It only determines the SLA for delivery.
Windows 10
Migrated 5,500 users to Windows 10. Deployed using SCCM.
Centralised Application Delivery
Delivered virtualised applications to 4,000 users using Citrix.
Device Migration
Migrated 90,000 devices to Windows 10. Using App-V, MSI and SCCM.
User Migration
Migrated 6,000 users to Windows 10 using Intune to deliver applications.
Rest assured, we do this a lot
Big or small, local, national or multinational. VMware, Citrix, App-V, MSI's, SCCM….
We've got you covered.
Real enterprises with real problems solved.
Working with you, and your partners
We can work with you directly but also hand-in-hand with your existing technology partners. 
So, if you have an existing arrangement with a local or global System Integrator, let us know and we'll work through them to make everything run more smoothly.
Find out more about what we do, tell us about your project, your issues, or the partner we need to work with.  
We're ready to help you complete your project successfully!